When they opened a few months ago, Barbeque Nation was the talk of the town with their characteristic all-you-can-eat grill buffet and seats that were difficult to come by. To keep the city's foodies returning, the restaurant has of late come up with food festivals – the latest of them being Euro Trip 2017. While Pondicherry has plenty of Continental options, this is the festival to hit this weekend if you are craving for European flavours with a desi twist!
[media-credit id=20 align="aligncenter" width="600″]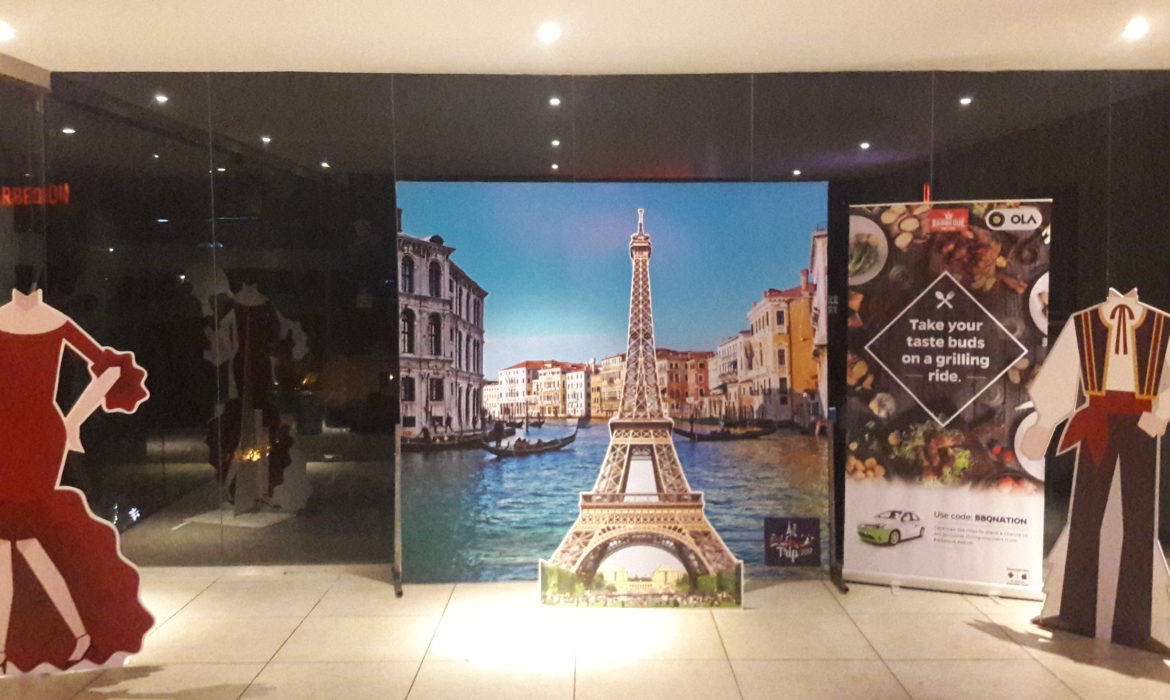 [/media-credit]
The Spread:
Super Starters:
The BBQ Rosemary Chicken, tenderly cooked with a distinguishable flavour of herbs was our favourite starter along with the melt-in-the-mouth Cilantro Lemon Fish. The Mango Mint Paneer seemed to want more tangy mango puree. Thinking it out loud, we were promptly surprised by another round of paneer with extra mango sauce!
Solid Middle Innings:
The live pasta counter had options for both the white and red sauce lovers. Though I'm a die-hard white sauce pasta fan, it was the Pasta Arrabbiata with Bell Peppers that had me going back for seconds. I tried some main course options from the festival menu like the Grilled Fish with Chunky Tomato and the Parmigiana Melanzana , a brinjal dish swimming in tomato sauce and topped with cheese. But it was the Spinach and Corn Gratin that stood out. Even those who are not too nuts about eating greens (like yours truly!) are sure to love it.
An okay finish :
I picked a Kiwi Skew from the special mocktail menu to go along with the entrees and for dessert downed a Chocca-Wocca, a mint-flavoured shake with chocolate sauce. Apart from the usual desserts, and their signature kulfi counter, there was a special Cheese brownie and a Chocogranate Swiss roll. Unfortunately, both the cheese and the pomegranate were barely discernible.
What we loved:
The pleasant and obliging service, something which has been a constant at Barbeque Nation, since they opened in Pondicherry.
The unlimited starters, especially the non-vegetarian ones, and the do-it-yourself pasta counters. The festival tries to fulfill the claim of providing Continental fare with an Indian twist by infusing flavours which are not alien to the Indian palate.
What could be better:
While there is a special menu, the spread is a heavy mix of regular dishes. The desserts did not have any particular European influence. It would have also been a good idea to familiarise the waiters with the special menu to make ordering easier.
Chef's Dose:
"We plan to keep changing the menu every now and then, so that the diners do not feel bored of tasting the standard items here," says Chef Kewal Rana. Except for signature dishes, like the Cajun spiced potatoes, which are permanent fixtures on the menu, they restaurant plans to introduce new flavours and cuisines. We're certainly keeping a look out on what they'll come up with next!
Where: Naga Progress Avenue, 120, Bussy Street
When: Till January 7: 12 to 3 p.m. and 6.30 p.m- 10.30 p.m.
How Much: Meal for 2: Rs. 1,000 to 1,400 (plus taxes). Book here
Disclosure: PondyLive was at the festival at the invitation of Barbeque Nation