February 22 @ 11:00 AM

-

February 24 @ 11:00 PM
Event Navigation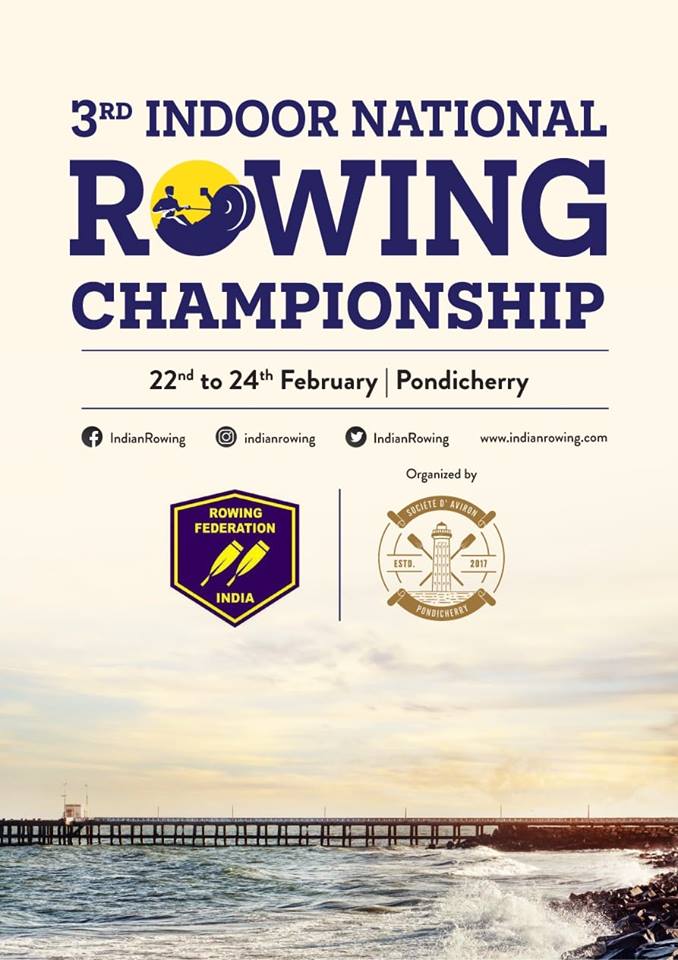 3rd Indoor National Rowing Championships
3rd Indoor National Rowing Championships
Organized and hosted by:Socie'te D' Aviron – Pondicherry
On behalf of: ROWING FEDERATION OF INDIA
CONTACTS:
Rowing Federation of India
PRESIDENT:Mrs Rajlaxmi Singh Deo
33-17/2 Officers Colony, RK Puram
Secundrabad – 500056 AP
Email :- rowingindia@yahoo.co.in
Mob : 9246202577
SECRETARY GENERAL:Girish Phadnis
Secretariat Address:
89 "SAI ELEGANCE 'B' Wing", Unit 103,
Mahakali Caves Road, Andheri East, Mumbai – 400009
E-mail: – sec.general.indiarowing@gmail.com
Mobile: 9820649939
Socie'te' d'Aviron Pondicherry
PRESIDENT
Smt. K. Ushadevi
pondicherryrowing@gmail.com
SECRETARY
Shunmugaraj K
pondicherryrowing@gmail.com
Mob: 9840199906
ORGANIZING COMMITTEE CHAIRMAN
Malladi Krishna Rao
Hon'ble Minister for Tourism, Sports & Youth Affairs
ORGANIZING SECRETARY
Shunmugaraj K
Email:shunmugarajk21@gmail.com
Mob: 9840199906
Regatta Convener
Kartik Raghava Murty S
9500075385
President of Jury
To be nominated
Date and Place
The competitions will be held at , Gandhi Thidal, Beach Road, Goubert Avenue, White Town, Pondicherry,
( Mobile: 7550099906 ) on 22nd & 23rd February 2019.
1. Events
OPEN EVENTS
i. Open Men's Individual 2000 M M1
ii. Open Men's Pair 2000 M M2
iii. Open Women's Individual 2000 M W1
iv. Open Women's Pair 2000 M W2
v. Open Mixed Fours 500 M (2 Men & 2 Women) MX4
LIGHTWEIGHTS EVENTS
vi. Open Men's Lightweight Individual 2000 M LWM1
vii. Open Men's Lightweight Pair 2000 M LWM2
viii. Open Women's Lightweight Individual 2000 M LWW1
ix. Open Women's Lightweight Pair 2000 M LWW2
x. Open Light weight Mixed Fours 500 M (2 Men & 2 Women) LWMX4
JUNIOR EVENTS BELOW 18 YEARS
xi. Junior Boy's Individual 1000 M JB1
xii Junior Boy's Pair 1000 M JB2
xiii Junior Girl's Individual 1000 M JG1
xiv Junior Girl's Pair 1000 M JG2
xv Junior Mixed Fours 500 M (2 Boy & 2 Girl) JMX4
1.1 NO DOUBLING IN 2000 MTRS OR 1000 MTRS
1.2 DOUBLING WILL BE ONLY PERMITTED IN THE MIXED 500 MTRS EVENTS
1.3 MIXED FOURES EVENT WILL CONSIST OF 2 MEN AND 2 WOMEN ENTRIES
1.4 JUNIOR SHOULD BE BORN IN THE YEAR 2001
1.5 EACH EVENT CAN HAVE "A" AND " B" ENTRIES FROM AFFILIATES
2. Eligibility
National Rowing Championships are open to the following:
3.1 All Affiliates of RFI
3.2 Any Organization or Institution to which the Federation has granted affiliation as an Associate Member.
3.3 .Only 'Nationals of India' – i.e. 'Citizens of India' will be eligible to participate in these Championships. 'National of India' shall mean and include a person as defined in Chapter II of the Constitution of India, who is a full-fledged Citizen of India, holding an Indian Passport
3.4 Explanation of "National of India"Holder of a Foreign Passport, Dual Citizenship will not be considered as a 'National of
India'. A 'Person of India Origin' [PIO] or 'Overseas Citizen of India' [OCI] not eligible to participate in Races conducted by / under the aegis of the RFI.
3. Entries
3.1 Preliminary entry form to be submitted by the 15 th January 2019. Same to email and send it to Organizing Secretary's email id and mark a copy to RFI Secretariat's email id.
3.2 Final Entry (Entry by name) must be received by the Organizing Secretary on or before the 10TH February 2019 The Final Entry must include the names and RFI registration Card Number
3.3 All entries must be submitted in the official forms attached herewith only with State Secretaries' signature & association stamp. If there are corrections and over writings, the same must be attested with signature & stamp of the secretary concerned.
3.4 Two entry permitted per event in both Open/ Light weight and Junior Categories from each Affiliate.
3.5 NO DOUBLING IN 2000 MTRS / 1000 mtrs
3.6 DOUBLING WILL BE ONLY PERMITTED IN THE MIXED 500 MTRS EVENTS
4. Detailed Procedure for Entry Submission
4.1 Take a print out. Secretary of State Association to rubber stamp and sign the form.
4.2 Scan the Entry Form and email it to Organizing Secretary's email id and mark a copy to RFI Secretariat's email id.
4.3 Bring this original Entry Form to Championship venue and hand it over personally to Organizing Secretary / President of Jury.
Note: a) Change of names of rowers will be accepted till 22th February 1400 hrs before the draws are made by the Jury.
5. Rules and Regulation
5.1 Lightweight women must be 61.5Kg or under.
5.2 Lightweight men must be 72.5 Kg or under.
5.3 For the individual and team events, all individual lightweight competitors must meet the weight limits.
5.4 The format of the Pairs events is 2 rowers rowing in 2,000m at the same time on individual machines with result assessed the cumulative score of the rowers.
5.5 The format of the Mixed fours events is 2 male rowers and 2 women rowers rowing 500 M at the same time on individual machines with result assessed the cumulative score of the rowers.
5.6 Competitors must wear official State Team uniform as registered with R.F.I. The competition will be conducted in accordance with the RFI Rules of Racing.
5.7 All teams must wear their racing uniforms as per the officially approved colors. Teams violating this rule will not be permitted to participate in the races.
5.8 Doubling will not be allowed in 2000 mtrs OR 1000 Mtrs events
6. Schedule
SCHEDULE
Friday 22nd February 2019 Arrival of teams , Jury Meeting Coaches / Managers Meeting & Draws
Saturday 23rd 2019 Opening ceremony / Races & Medal Ceremony
Sunday 24th February 2019 Departure
6.1 The schedule is subject to change. Changes will be notified to all Associations .
7. Association Flag
The teams are requested to bring the Flags their respective State Associations.
8. Boats and Equipment
8.1 Concept2 Model D rowing ergometers with PM5 monitors will be used.
8.2 Teams will be responsible for the breakages and damages to the equipment's provided by the organizers. The decision of the Jury will be final in determining the extent of damage and cost to be paid.
9. Participation Fee
9.1 There will be a 'Participation Fee' of Rs. 500.00 per Participant from all Participants.
10. Transportation
Local Transportation from Railway Station , Air Port to the place of venue and stay :
Ample public transport , Auto, Uber, Ola is available. No transportation provided .
11. Accommodations:
Accommodation will be available on prior booking from 1100 hrs 22nd February to Noon of 24th February . Cost per person on a subsidized rate per day would be Rs 600 which would include the following
1. Lunch and dinner on the 22nd
2. Breakfast Lunch and dinner on 23rd
3. Breakfast on 24th
4. Any teams coming prior 1100 hrs on 22nd or departing after 1200 hrs of the 24th will have to make their own arrangements .
12. Appeals
All appeals shall be dealt with in accordance with RFI Rules of Racing.
13. Medals and Certificates
Medals and Certificates will be presented to first three winners in each event and Participation Certificates will be issued as per the qualifying provisions laid down by RFI.
Image courtesy of India Rowing