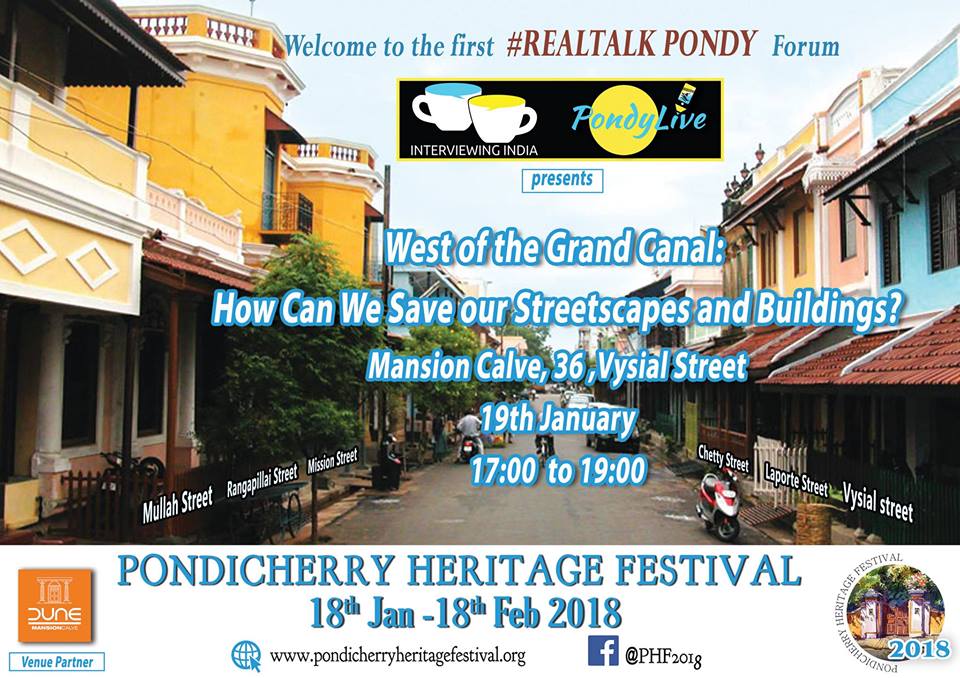 Amoolya Kamalnath | Pondy Live
Do you care about Pondicherry ?
Come join the first #RealTalkPondy forum, a collaborative initiative between two digital platforms, PondyLive and Interviewing India. 
Our first Pondicherry Forum is under the banner of the prestigious Pondicherry Heritage Festival. Our topic of discussion is "West of the Grand Canal: How can we save our streetscapes and buildings?". 
Our traditional buildings are fast disappearing and the character of our streetscapes is changing. What have we done about this and what can we do to save what is left?
We want to hear your stories too. Have you lived or worked or continue to live or work in the boulevard area, west of the Grand Canal (Tamil Quarter)? Have you had to sell your ancestral heritage house or have you managed to hold on?
Join the conversation with our other speakers:
1. Dr Nalam
2 Professor P. Raja
3 Ari Gautier
4 Devangi Ramakrishnan
On Friday, January 19 at 5 p.m;
Our venue: Dune Mansion Calve on Vysial Street.