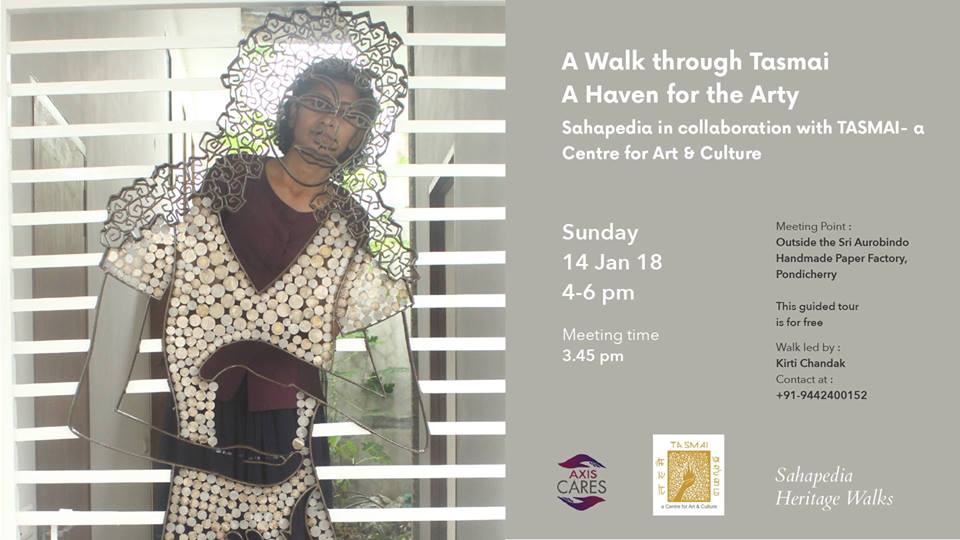 Amoolya Kamalnath | Pondy Live
Fill the form to confirm your registration.
(Link to the registration form: https://goo.gl/DZG1qR)
——-
We all love beauty and beautiful things. The English Poet John Keats wrote that 'a thing of beauty is a joy forever.' What does this mean in the practical sense?
Let us take a look at Tasmai and experience the joy we get from the beautiful things we see. Here the indoor and outdoor blend, here nature and architecture are integrated, here every space has a creative thought and expression which transforms it. The power of Art is that it transforms spaces, uplifts our minds and brings us happiness.
A guided tour of the cultural center will bring home the importance of dreaming and creativity. Every home needs a studio space, just as it needs a bed, a washroom and a kitchen. The visit will be inspirational to nurture creativity, to slow down in one's life and re-align with one's inner self.
This guided tour is free.
Date: Sunday, 14 January 2018
Duration: 4:00 pm to 6:00 pm, Meeting Time: 3:45 pm
Meeting Point: Outside the Sri Aurobindo Handmade Paper Factory, Pondicherry
Nearest Transport Stop: Bus and Tempo stop opposite Sri Aurobindo Handmade Paper Factory
Walk Leader: Kirti Chandak, Director of Tasmai
Medium: English
Things to keep in mind:
Mandatory registration closes after 25 entries.
Steps for registration:
1. Please like and share the TASMAI page to register.
2. Fill the form to confirm your registration.
(Link to the registration form: https://goo.gl/DZG1qR)
If you are unable to attend the walk after having registered, please inform us over an email or a text message.
Phone: +91-9442400152 (Kirti Chandak), Email: walks@sahapedia.org
Carry pencil and a writing pad and drinking water.
You may park your vehicles at the meeting point.
Wear comfortable shoes.
Photography charges INR 50, for one has to pay Video 200.
Mobile phones should be switched off.
Kindly avoid littering during the walk.