September 21 @ 7:00 PM

-

9:00 PM
Event Navigation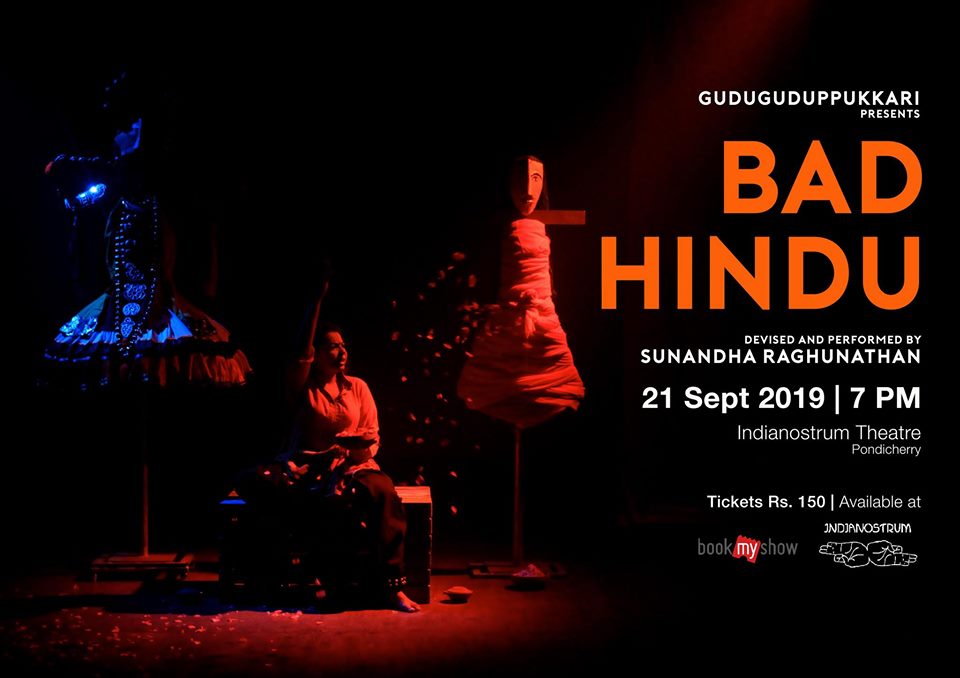 Bad Hindu
Bad Hindu
Produced by: Guduguduppukkari
Written, directed and performed by: Sunandha Raghuraman
Performance Date and time: 21st September at 7.00pm
Language: English (With Tamil songs)
Performance Duration: 80 minutes
Age Suitability: Above 16 years
Crew:
Lights operation – Gowtham
Sound & Production – Harish Swaminathan
Synopsis:
The title Bad Hindu is a nod to the structure of the play and Hindu philosophy of death and rebirth.
Bad Hindu is a Kattai Koothu play in English. Kattai Koothu is traditional Tamil theatre where the performer sings, dances and tells stories from our myths. In Bad Hindu, Aravan's Sacrifice is the Koothu that is performed but the story-teller Sunandha is entwined in the performance making it a compelling dialogue between
the mythic and the ordinary.
The premise of Bad Hindu is that Sunandha welcomes the audience as Kattiyakaari into an 8 hour performance of Aravan's Sacrifice and begins telling the story of Aravan when suddenly her own voice interrupts her asking her what makes her worthy to tell the story. She proves her worthiness and the show resets to the top and again another interruption questions her worthiness and on and on.
Donor Passes available at the venue for Rs.150