March 24 @ 6:00 PM

-

9:00 PM
Event Navigation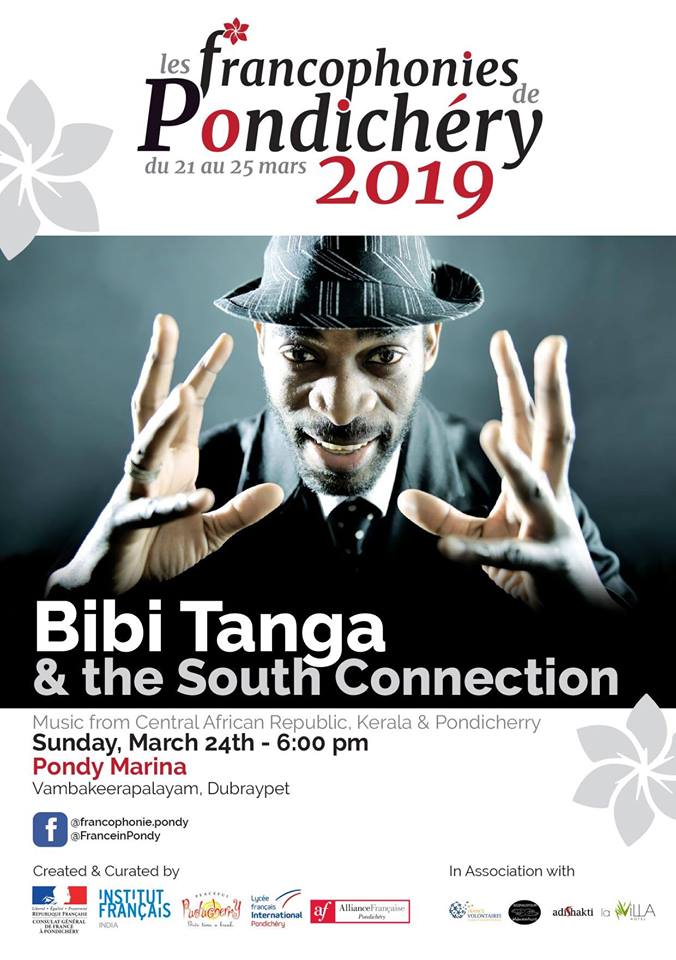 Bibi Tanga & the South Connection
Bibi Tanga was born in 1969 in Bangui, the Central African capital. He is a musician with multiple instruments like the saxophone, the bass, the clappers. He sings as well in French as in English, Spanish or Sango. He likes to combine the sounds.
At the age of nine, he moved to the Paris region with his family. It was his parents who introduced him to all the music and enrolled him in music theory classes thereafter. In the 1980s, it opens particularly to punk and new wave.
Biba Tanga often returns to the Central African Republic and discovers modern Afro music there. The group "The Malka Family" shoulder to record his first solo album in 2000, "The wind blowing", a jazz disc, funk, which tells the urban daily with poetry.
His meeting with Professor Inlassable makes him discover all the facets of his voice. Then he will work on an album with this one, which invites him to create a real universe made of many musical curiosities, to accumulate the sounds, to rhythm the words and to harmonize the opposites. The talents of Bibi Tanga are then put on the front of the stage, giving birth to "Yellow Gauze".
Bibi Tanga was born in Bangui, the capital of Central Africa. Highly talented, he plays the saxophone, the bass, and the clappers. He can sing in French, English, Spanish, and Sango. He enjoys combining sonority. At nine, he moved to his Parisian neighborhood. His parents opened / exposed him to a great variety of music; and enrolled him to music theory classes.
In the 1980's, Bibi Tanga got particularly attracted to Punk and New Wave. He often went back to Central Africa where he discovered Afro Modern Music. The music group 'Malka Family' helped him in recording his first solo album 'The wind blowing' in 2000. A jazz, funk music album, poetically eulogising day to day urban life.
His tryst with Professor Uncertain enabled him to realize the mellifluous facets of his voice. Pushed by him, he fashions his own universe, introducing musical peculiarities, layering sounds, creating assonance, finding the rhythm in words and matching opposites. This encounter gave birth to a new album, 'Yellow Gauze', in which Bibi Tanga 's talents are on full display.
Image courtesy of Consulate General of France in Pondicherry