August 10 @ 5:30 PM

-

7:30 PM

UTC+0
Event Navigation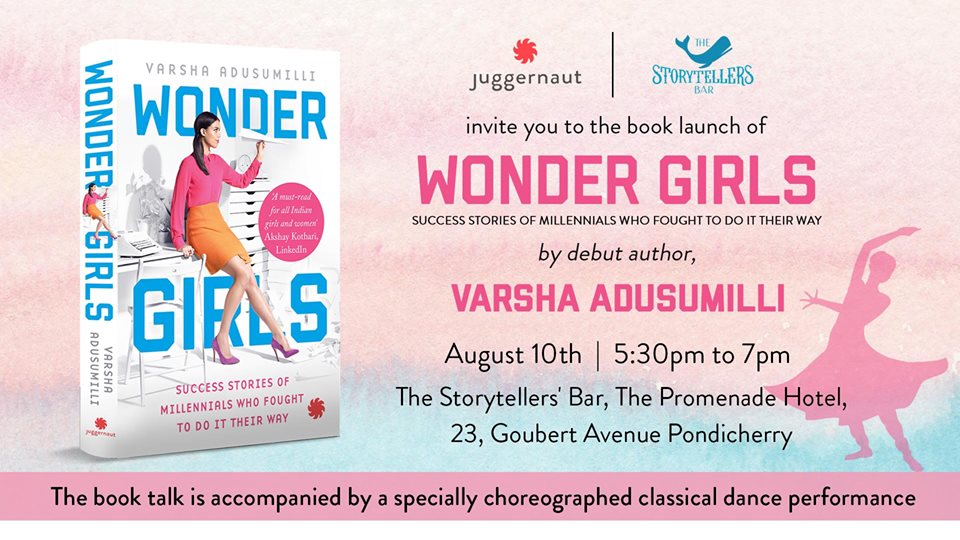 Date: 10th August 2018 (Friday)
Time : 5:30pm – 7:00pm
About the book:
Wonder Girls is a book that tells the real stories of 15 young women who are thriving in their careers, from a particle physicist to a rock climber to a Bollywood casting director.
The women featured hail from a range of backgrounds, including remote villages in Sikkim and Goa, the small cities of Jabalpur and Vijaywada, and the bustling metros of Mumbai and Bangalore. Using in-depth personal narratives, Wonder Girls shows young women that diverse career options and life choices are available to them, no matter who they are or where they come from. We plan to reach young women aged between
15 to 25, a group that must navigate many tough life choices: selecting a career, completing an education, joining a first job, possibly getting married, and deciding whether or not to stay at work.
About the Author:
Varsha Adusumilli is an entrepreneur at heart. She
studied at BITS Pilani Goa and then immersed
herself in the world of startups. She was
instrumental in setting up India's pioneering
seed fund called Kstart for Kalaari Capital,
which focused on investing in disruptive
technology start-ups. She was also one of the
founding team members of YourStory. Varsha
lives in Bangalore and is passionate about
women, books, healthcare, and startups.Varsha Adusumilli, Juggernaut, The Storytellers' Bar, Pondicherry
Image courtesy of The Storytellers' Bar