February 16 @ 2:00 PM

-

February 17 @ 8:00 PM
Event Navigation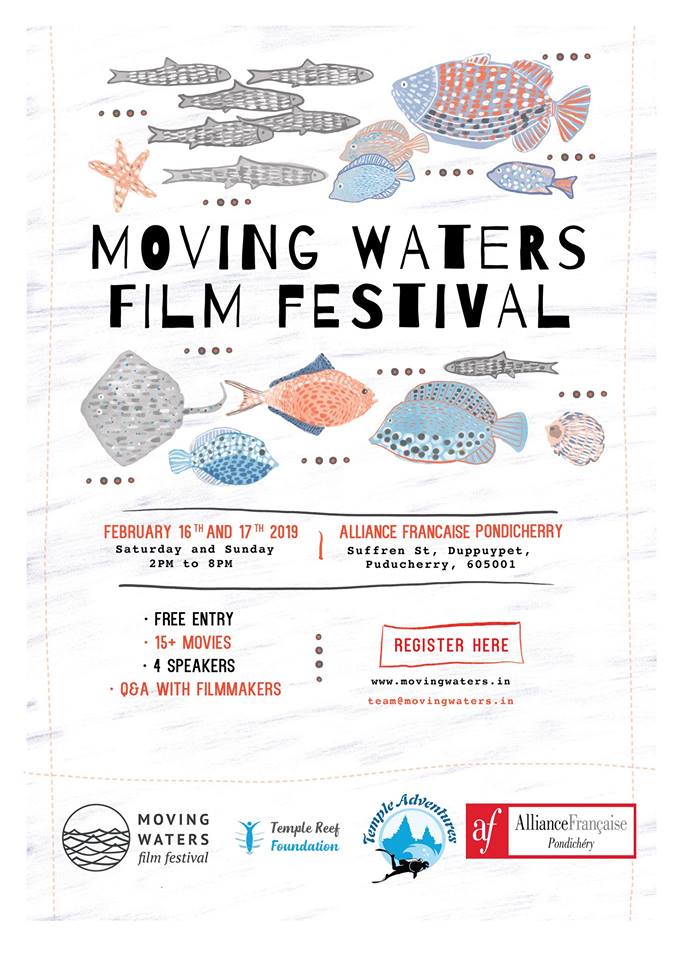 Moving Waters Film Festival
The Moving Waters Film Festival comes now to Pondicherry at Alliance Française Pondicherry.
The Moving Waters Film Festival celebrates our rivers and oceans, and also hopes to generate critical awareness on their current states and conservation challenges. The festival explores all that makes ours a blue planet  — the rivers, lakes and oceans and the life they support. For the third year, in succession, we will engage with conservationists, researchers, activists, artists and citizens on issues that affect the aquatic environment.
FILMS AT THE FESTIVAL 
MWFF presents a selection of visually-appealing, hard-hitting films and expert talks to help our audience navigate these tricky waters. We believe these films and talks will kindle awe and curiosity, and inspire an informed citizenry. This is a call-to-arms to stop the destruction of our rivers, lakes and oceans.
The 2019 shortlist features, amongst others, Jeff Orlowski's Chasing Coral, a story about a team of divers, photographers and scientists on an adventure to understand the decline of coral reefs around the world and to reveal the underwater mysteries to the world; NRS films The Coast and Cascada about the love for the perfect wave, the perfect waterfall and the places that they still survive in – this is a perfect mix of adventure and natural beauty; DamNation, by Ben Knight and Travis Rummel about the state of dams across America and the changing attitudes towards them – that our own future is bound to the life and health of our free-flowing rivers. These films along with the rest in the line-up makes for a rivetting watch, and are a moving elegy to our natural world – rivers and oceans.
LET'S TALK ABOUT CONSERVATION
The speakers for this event include acclaimed nature and conservation film-maker Shekar Dattatri. Shekar is a Rolex Award for Enterprise and a recipient of the prestigious Edberg Award for his conservation film-making. He is one of the pioneers of nature and wildlife filmmaking in India and has assisted numerous grassroots conservation efforts in bringing an end to environmentally destructive practices such as mining. He is the co-founder of Conservation India, an online for conservation awareness and action.
Chaitanya Krishna from InSeason Fish. Chaitanya is a Wipro Sustainability Seeding Fellow and along with Divya Karnad they are on a mission to network small-scale fishermen to responsible seafood consumers- this talk is for all of us, for those seafood consumers who want to enjoy seafood responsible, and for those of us who would like to understand the scale of the problem and alternatives to it.
Aurofilio Schiavina is a Pondicherry native –  an avid swimmer, diver, surfer, and wind-surfer, he decided to combine this love for the sea with his higher education and received a masters in Tropical Coastal management at Newcastle University. He is one of the founder members of PondyCAN and has actively worked towards restoring Pondicherry's damaged coastline by engaging with the Puducherry government.
Suneha Jagannathan has been passionate about animals and wildlife conservation since childhood and this eventually led her to intern with various conservation organisations like Madras Crocodile Bank Trust and Students Sea Turtle Conservation Network. After completing her postgraduate degree in Tropical biodiversity and Ecosystems from the prestigious Erasmus Mundus program, she joined hands with Temple Adventures to start the Temple Reef Foundation in 2017.  
Entry: FREE and open to the public
CONTACT:
Abhi: +91 9902058989
Lena:   +91 9886144025
Hari:            +91 9566582021
Image courtesy of Alliance Franchaise