November 30 @ 5:30 PM

-

7:00 PM
Event Navigation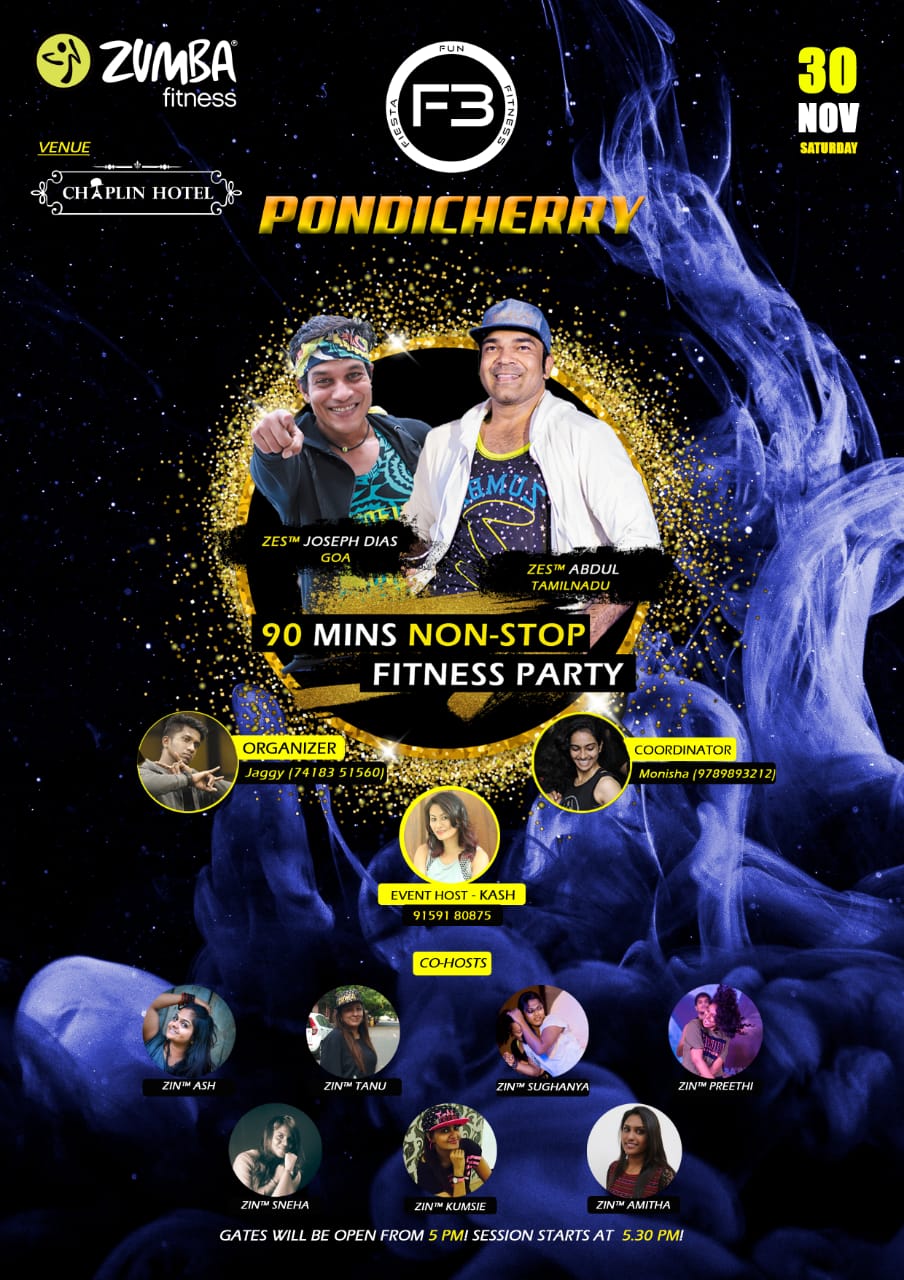 F3
Participate in the F3 90 minutes Non-Stop Zumba Fitness Party , the biggest Zumba fitness party of 2019 right here in Pondicherry!
BOOK TICKETS HERE!
Reserve your seat right now by clicking the red BOOK NOW button on top of this page!
You will receive instant confirmation by SMS/ e-mail.
For immediate assistance or trouble-shooting with ticketing, please e-mail info.pondylive@gmail.com
For enquiries about the event, contact Kash @ 91591 80875
Find more events in Pondicherry here
Disclaimer: Pondylive is the ticketing partner for this event and not the organiser. 
WHAT IS F3 ?
F3 – Fun Fitness Fiesta is a pan-India fitness event that aims to bring fitness enthusiasts together and create a fun atmosphere while burning those calories!  This event will be a platform for people to experience different fitness formats available in the market.
What to expect @ F3 Zumba Fitness Party ?
To start with , F3 is hosting a 90 minutes non-stop Zumba® Fitness Master Class helmed by TamilNadu's Zumba Education Specialist, ZES™ Abdul along with  ZES™ Joseph Dias from Goa and ZES™ Shweta Kulkarni from Pune.
They will be joined by 10 certified Zumba Instructors (ZINs) including 8 ZINs from Pondicherry – Kash as local city host and co-hosts Asha, Sunganya, Tanu, Preethi, Amitha, Kumsie and Sneha. Two ZINs from Chennai- organizer ZIN Jaggy and coordinator ZIN Monisha are also part of the event.
If getting fit has been on your agenda for long, this event is the perfect platform to kick off those fitness goals while having fun and making new friends !
F3 90 minutes Non-Stop Zumba Fitness Party is not just for Zumba Instructors and their clients but for anyone who is looking out for interesting ways to get fit.
Gate opens at 5 P.M. Event starts at 5.30 p.m. Tickets at Gate: Rs. 500 . Book online at Pondylive.com for discounted rates!
The Chennai edition of the event is on December 1 at Le Royal Meridien and the Coimbatore edition on December 8 at SSVM-School of Excellence.
ABOUT 

ZUMBA
Zumba® Fitness is the only Latin-inspired dance fitness program that blends red-hot international music created by Grammy Award-winning producers and infectious steps to form a "fitness party" that is down right addictive!
Since its inception in 2001,the Zumba® Fitness program has become the world's largest-and most successful-dance fitness program with more than 25 million people of all ages, shapes and sizes taking weekly Zumba classes in over 200,000 locations across more than 200 countries. People always want to do something exciting and fun and Zumba Fitness classes gives people the required incentive to keep coming back for more.