February 15 @ 3:00 PM

-

6:00 PM
Event Navigation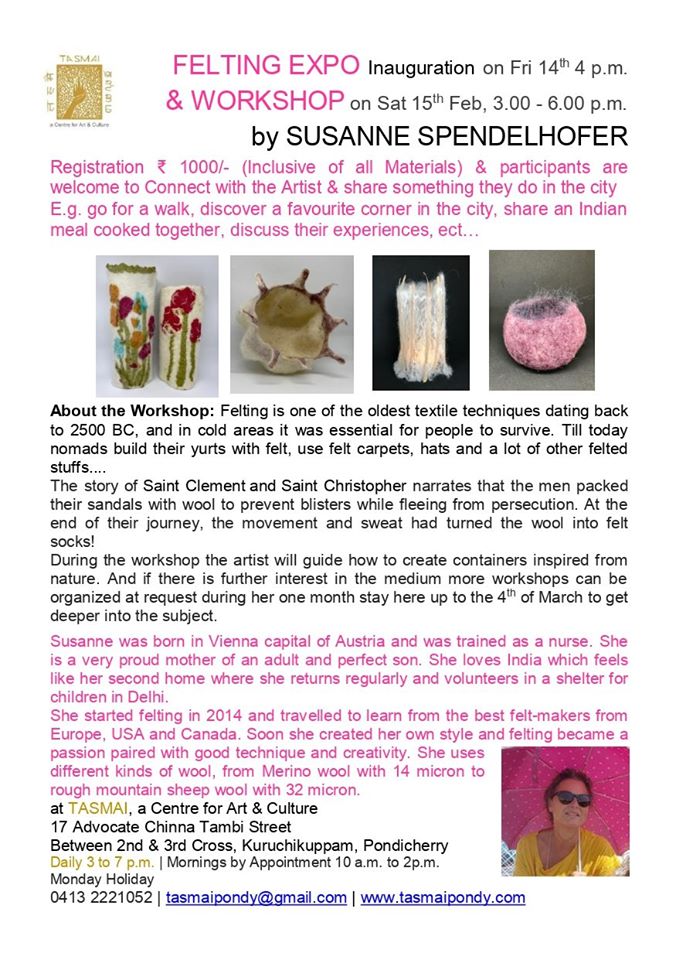 Tasmai, a Centre for Art & Culture
Felting Expo & Workshop
About the Workshop: Felting is one of the oldest textile techniques dating back to 2500 BC, and in cold areas it was essential for people to survive. Till today nomads build their yurts with felt, use felt carpets, hats and a lot of other felted stuffs….
The story of Saint Clement and Saint Christopher narrates that the men packed their sandals with wool to prevent blisters while fleeing from persecution. At the end of their journey, the movement and sweat had turned the wool into felt socks!
During the workshop the artist will guide how to create containers inspired from nature. And if there is further interest in the medium more workshops can be organized at request during her one month stay here up to the 4th of March to get deeper into the subject.
Susanne was born in Vienna capital of Austria and was trained as a nurse. She is a very proud mother of an adult and perfect son. She loves India which feels like her second home where she returns regularly and volunteers in a shelter for children in Delhi.
She started felting in 2014 and travelled to learn from the best felt-makers from Europe, USA and Canada. Soon she created her own style and felting became a passion paired with good technique and creativity. She uses different kinds of wool, from Merino wool with 14 micron to rough mountain sheep wool with 32 micron.