March 22 @ 6:00 PM

-

March 25 @ 9:00 PM
Event Navigation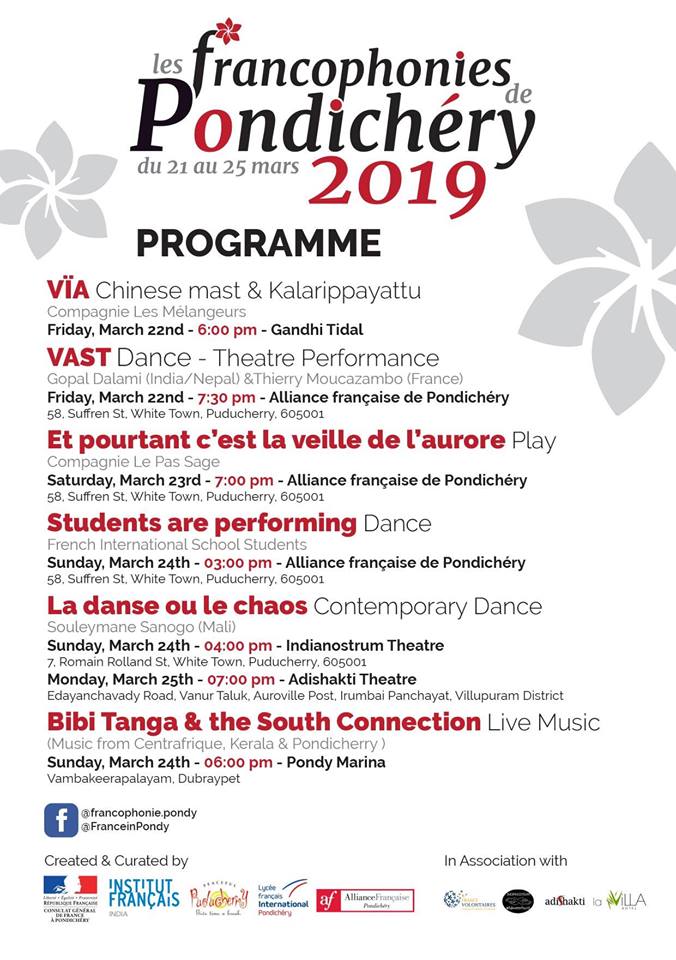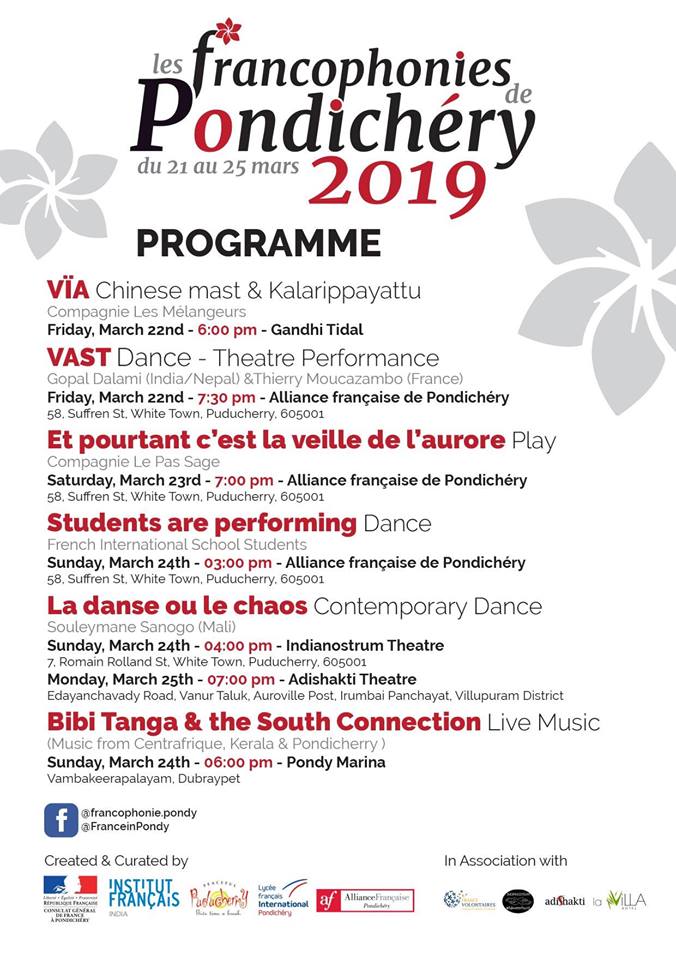 Francophonies de Pondichéry 2019
Francophonies de Pondichéry 2019 is organized by the Consulate General of France in Pondicherry, the French Institute in India, the Ministry of Tourism of Pondicherry, the Alliance Francaise of Pondicherry and the French International School of Pondicherry (Lycée français).
The first edition of Les francophonies de Pondichéry is designed to be a  window on the Francophone world. Five days of various performing arts like circus, theatre, dance, music will feature artists from Mali, Central African Republic, Algeria, France and India.
The festival will take place from 21 to March 25, 2019 at various venues .
Schedule: Francophonies de Pondichéry
VÏA – Gandhi Thidal
Vîa is a mix of Chinese mast, kalaripayattu and music which adapts to the interpretation of the moment , where the audience is led to listen, watch and awaken their senses.
VAST – Alliance française de Pondichéry
A dance-theatre production which examines how the human body carries in itself the memory of  Nature and Vastness.
Saturday, 23 March 2019
19:00
Et pourtant c'est la veille de l'aurore -Alliance française de Pondichéry
Barely out of the Nazi camps, Satprem leaves for Pondicherry and then meets Sri Aurobindo. Inspired by the life and experience of Satprem, this play takes us to the incredible destiny of this adventurer of conscience.
La danse ou le chaos – Théâtre Indianostrum
This contemporary dance explores life and performance by Souleymane Sanogo, aka Solo, born in the street in Bamako, Mali.
Bibi Tanga & the South Connection – Pondy Marina, Vamabakeerapalayam
Bibi Tanga born in Bangui, Central Africa, plays the saxophone, the bass, and the clappers. He can sing in French, English, Spanish, and Sango. This event will also feature music from Kerala and Pondicherry.
Image courtesy of Consulat général de France à Pondichéry