February 15 @ 8:00 PM

-

10:30 PM
Event Navigation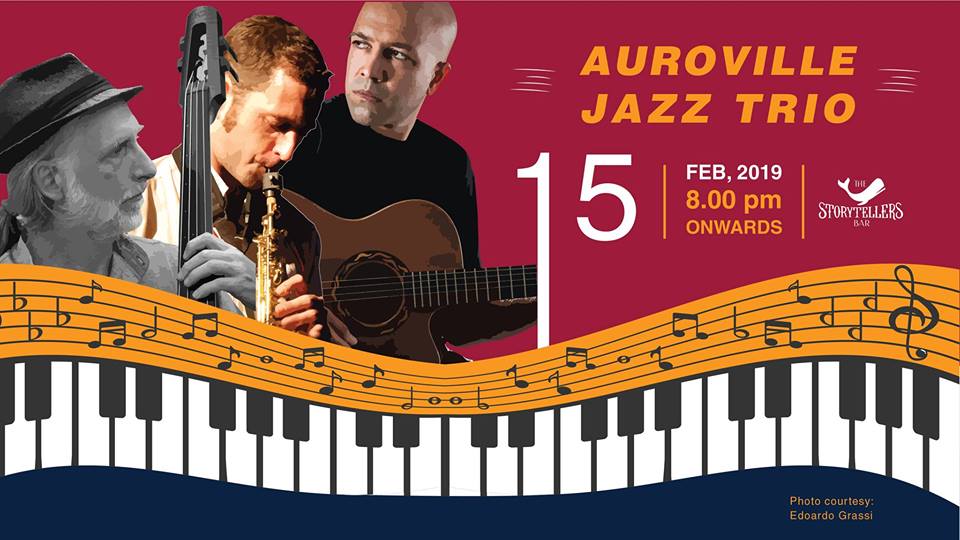 Friday Night : Auroville Jazz Trio
About:
AUROVILLE JAZZ TRIO
The Auroville Jazz quartet features Shanks Kini on guitar and vocals, Matt Littlewoodon keyboards and Holger Jetter on electric double bass.
The group performs a repertoire of classic jazz as well as its own reharmonizations and arrangements of jazz standards. All three musicians are well known on the Indian jazz scene and have performed at major venues and festivals.
Artist Bios
Holger Jetter – Bass
Holger Jetter is classically trained in violin and guitar (Mozarteum Salzburg, Austria). As co-founder of the "Modern String Quartet" he has performed over 1000 concerts in 6 years while at the same time performing with renowned musicians, such as Mercedes Sosa, Joan Baez, Charlie Mariano and Konstantin Wecker. He has worked as a musician, composer, arranger, producer and music educator in Auroville for more than the last 25 years.
During the past fifteen years he has mainly focused on contemporary improvised music and has been touring in India, Europe and the United States. Holger has been teaching a large variety of skills to young enthusiastic music students. His latest adventure began in early 2016 with the addition of an electric double bass in his approach towards music theory & playing; ear training and instrument practice changed one more time dramatically, with the focus being all on the harmonic progression, groove and body awareness. At present he is setting up a Music Academy for higher music studies in Auroville, which aims at opening its gates to dedicated students in 2018.
Matt Littlewood – keyboards
Originally from the UK, Matt Littlewood has been living for the last 17 years in India.Having studied western classical music at the University of Exeter in England he has since then been active on the Indian jazz scene, and has played with numerous groups, and performed at major venues and festivals in this country. Some of the artists he has performed regularly with include, Aman Mahajans Refuge, Radha Thomas and UNK, The Agenda with Sunitha Sarathy, Amit Heri, Andrea Jeremiah, Mili Nair, Sangoma Everett, Krishna Kumar's Temple Rock, and Mishko M'ba's tribute to Jaco Pastorius. Matt is also an active composer, has recently co written and directed two original musicals, and leads his own group performing original works.
Shanks Kini – guitar, vocals
Shanks is an independent producer and multi instrumentalist based in Auroville, India. He explores genres of jazz, blues, rock, folk and funk with independent projects. He plays guitar and sings with the quartet. He scores music for cinema and theatre. He collaborates with musicians in Auroville, Pondicherry; records and produces music and sings and performs jazz all over India. Being in the music industry for a long time in India, Shanks has worked several established musicians and producers though presently studies and performs traditional jazz.
Image courtesy of The Storytellers' Bar