September 19 @ 6:00 PM

-

September 21 @ 9:00 PM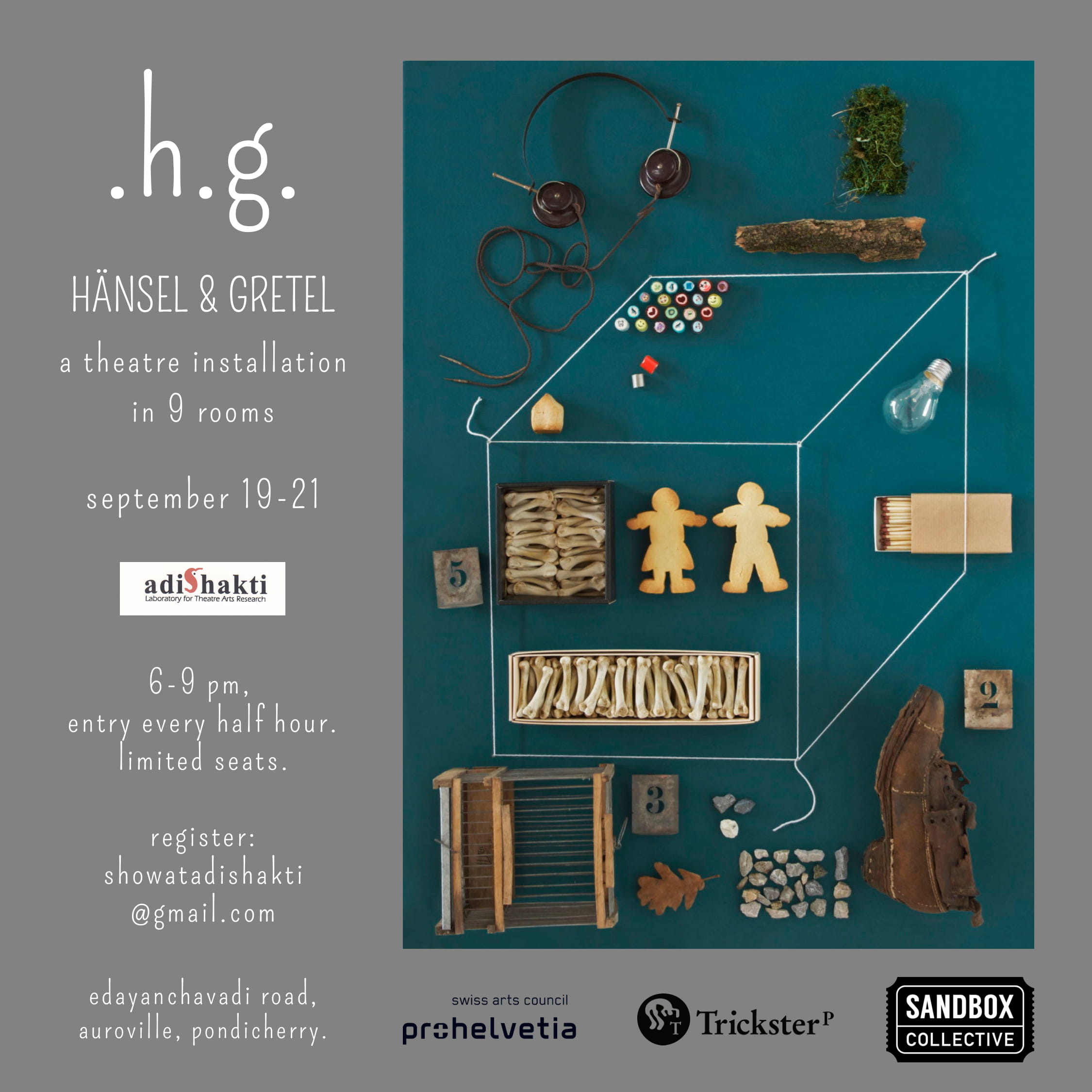 .h.g. 
Hänsel and 

Gretel Theatre Installation
.h.g. Hänsel and Gretel Theatre Installation in 9 rooms
They told us Hansel and Gretel was a fairy tale. This beastly, cruel and merciless story is no fairy tale surely?
A story about food and hunger. About home and exile. About returning home.

A story about two children holding hands.  About smells and sights.Flesh and bones.

And suspended between Darkness and Light is a story waiting to be told.
WHAT TO EXPECT:
.h.g. Hänsel and Gretel Theatre Installation is a reading of the classical fairy tale. The performance takes the shape of an installation that merges theatre and visual arts. The spectator walks through nine different physical-sensory rooms accompanied and guided by earphones. Each member goes through this experience individually for 30 minutes.
Each room is a world on its own, a passage into universes suspended halfway between reality and dream: here the mind slips into the imaginary, and the external spectator becomes an integral part of the experience. The installation evolves along the points of rupture and intersection of the story, in search of the links between the world of childhood and the world of adulthood.
Entry every half hour.
TRAILER: 
MORE INFORMATION here. 
HOW TO REGISTER:
This is a free show but only limited slots are available.
To register email: showatadishakti@gmail.com
Age Restriction: 10+
Limitations:
Entry only by prior booking. No walk-ins.
The installation is not accessible on wheelchairs
The journey is to be experienced alone.
Please note that each person is allowed entry only after a gap of five minutes.
People arriving in groups will have to wait for their turn.
No photography permitted.
ORGANISERS:
.h.g. Hänsel and Gretel Theatre Installation is  a performance created by Trickster P , a theatre company from Switzerland. The group is in India in September and October and will be performing in Delhi, Pondicherry, Chennai and Bangalore. 
About Sandbox Collective:
Sandbox Collective is an arts collective based out of Bengaluru that curates, produces and tours performances. It acts as a catalyst facilitating meaningful collaborations nationally and internationally between artists, cultural agencies and arts spaces creating an explosion of innovative artistic expression.
About Swiss Arts Council Pro Helvetia: 
Pro Helvetia New Delhi is part of the Swiss Arts Council's worldwide network of liaison offices. PHND supports and disseminates Swiss arts and culture in South Asia. It promotes cultural exchange, develops and nurtures long-term partnerships, initiates co-productions and supports residencies.
Find more interesting events in Pondicherry
Image courtesy of Sandbox Collective