December 11 @ 3:00 PM

-

6:00 PM
Event Navigation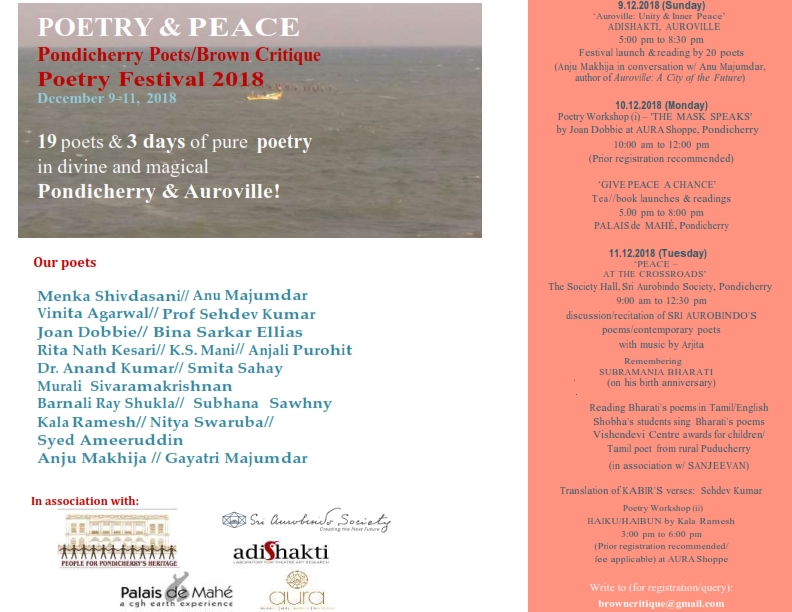 Haiku/Haibun Poetry Workshop:
Kala Ramesh's three-hour long workshop on haiku/haibun promises to be an exciting one! There will be a small contribution (Rs 100) for this one conducted on 11 December 2018 from 3 pm to 6 pm.
Kala Ramesh: Poet, editor, anthologist, Kala's initiatives culminated in founding 'INhaiku' to bring Indian haiku poets under one umbrella in 2013. She has taught haiku and allied genres at Symbiosis International University and the Katha National Writers Workshop since 2013. To bring haiku into everyday spaces, Kala initiated HaikuWALL, haikuTRAIL, haikuTALK, haikuWORKSHOP, haikuYOUTH, haikuUTSAV, haikuDHYANA and haikuSTAGE – a weaving together of art forms. SAMVAAD: the open sky — a dialogue to bring writers of different poetic genres together is her latest venture. She is the editor of four haiku, tanka and haibun journals.
Image courtesy of Pondicherry poetry festival