September 28 @ 2:30 PM

-

5:30 PM
Event Navigation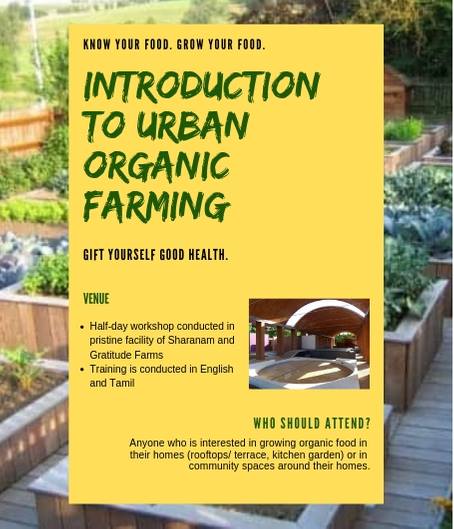 Know Your Food, Grow Your Food
Gratitude Farms is happy to announce!"Know Your Food, Grow Your Food" Workshop on Urban Organic Gardening .Are you interested in a small and beautiful kitchen / terrace garden to grow your own organic vegetables?
Do you like the idea of seeing a tiny seed or sapling growing every day and giving you fresh greens / juicy vegetables in less than 60 days?If yes, then this 3 hours' workshop is for you.You are most welcome to attend the training with your family and friends.
Date: Every Saturday starting 17 Aug 2019
Time: 2:30 pm – 5:30 pm
Venue: Sharanam Training Facility, near Ousteri Lake Estate
Location: https://goo.gl/maps/jUYKrmoSuLM2
PRICE AND DELIVERABLES
You carry with you ….
✓ Two planter bags (medium / large size)
✓ Growing medium: Organically Enriched Coco-peat
✓ Organic Bio- nutrients and Bio-pest repellents (for four months for up to 10 plants):
⁃ Panchkavya (250 ml)
⁃ Neem oil spray (100 ml)
⁃ Bio-Josh XL + Bio – Micro-min (100ml), Nutri-boost: Leafy Green Plants, (100 ml), Bio-Protect (100 ml)
✓ One set of home garden seeds (5-6 varieties)
✓ Cloth Bag
✓ Home Garden Guide
✓ Free Refresher Training after 3 months
✓ One Year Free Support (Online / WhatsApp)
Introductory Price – Rs. 1000 /- (including GST ) only per participant.
Pickup and Drop from Pondicherry available (Rs. 400 /- per person)
Please see the attached brochure for details.
To confirm attendance, please call Subashini at 63799 05595
or send us a pm.