April 23 @ 2:30 PM

-

5:30 PM

UTC+0
Event Navigation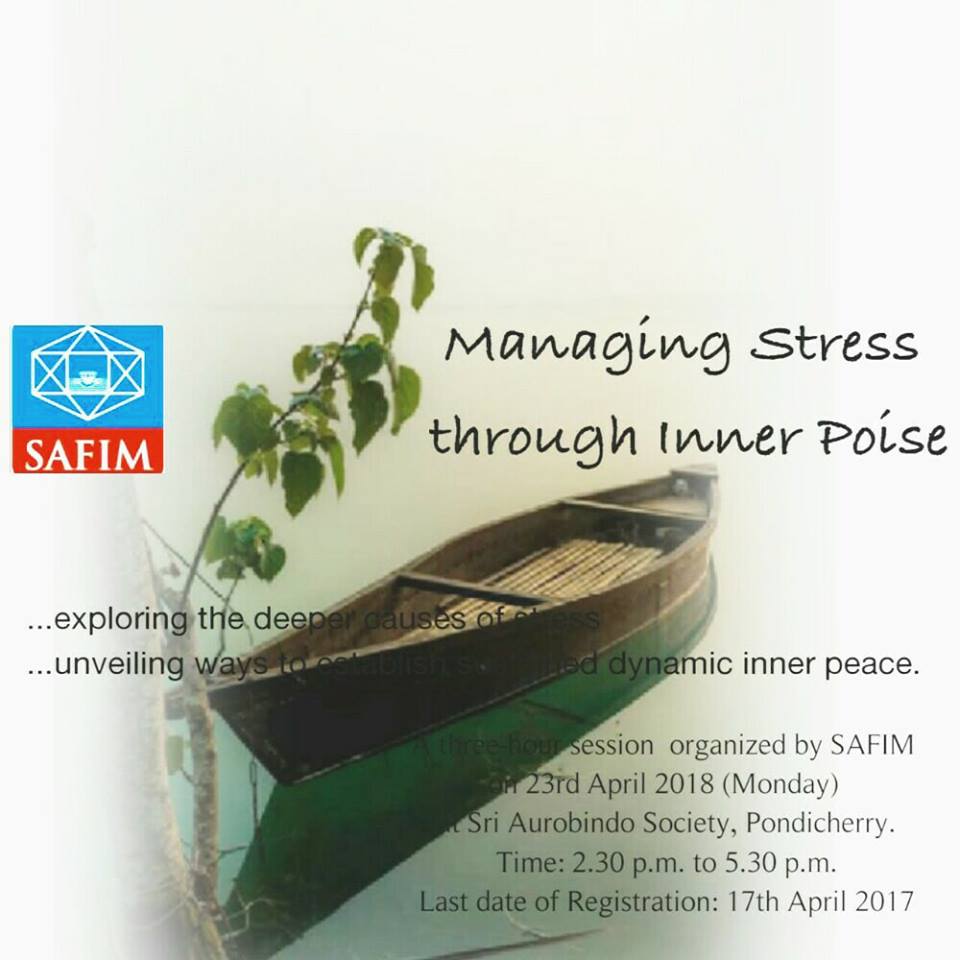 Managing Stress through Inner Poise
A three-hour session on "Managing Stress through Inner Poise" will be organized by SAFIM on 23rdApril 2018 (Monday) at Sri Aurobindo Society , Pondicherry.
The session exploring the deeper causes of stress – the reflections and the activities in the workshop unveiling ways to establish sustained dynamic inner peace.
Time: 2.30 p.m. to 5.30 p.m.
Last date of Registration: 17th April 2017
Feedback from the last few workshops:
This is one of the best workshops I ever attended in life. It has brought me the awareness about life, its real purpose and the directions I need to take. I have got various ways to understand the purpose of each situation that occurs in my life. I have got the real valuable information on how to lead stress free life by focusing more on within than outer circumstances. – Sanjeev Patra.
This workshop was excellent……….The explanations about types of stress and the ways to deal with it by detaching our self from the situation, the Tortoise & the squirrel example…Thank you so much… ending with the mother's words was superb… – M. Srihari.
Crisp & to the point, it was a good session to remind us of the attitude to take in our daily life. Quotes & examples given were too appropriate & the solutions were good. – Nirupama.
For further details and registering online, check Safim Aurosociety website or,
Contact:
SAFIM, Sri Aurobindo Society, Society House
No. 11, St. Martin Street, Pondicherry – 605001, India
Tel: 91- 413-233 0256, Fax: 91 – 413 – 233 0909 / 233 4447
Email: safim@aurosociety.org, Website: www.safim.aurosociety.org