September 28 @ 6:00 PM

-

7:00 PM
Event Navigation
Pondicherry University celebrates a Pride March organised by Spectra, a student support group, conceived to increase awareness about the queer community in Pondicherry University.
The march also follows on the heels of the Supreme Court judgement decriminalising Section 377.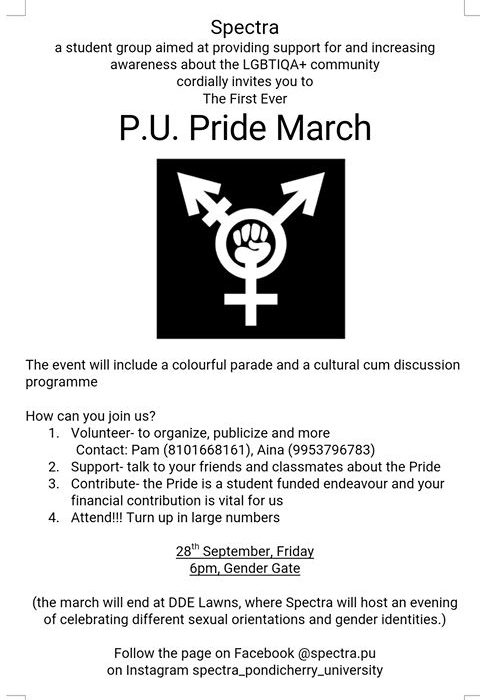 What is 'Pride'?
Pride is a commonly-used, familiar word for most people. It is often used to denote the feeling associated with one's personal achievements or one's country. However, for marginalized communities, 'pride' tends to mean something much more intense- a word that helps them embrace identities that they have been forced to feel ashamed of, and hide, their entire lives. It is a word that tells them that they do not have to make compromises anymore- that being themselves is okay. It is, in other words, the opposite of 'shame'.
The modern movement for Lesbian, Gay, Bisexual, Transgender and Queer Rights (also referred to as the LGBTQ or the LGBTIQA+ movement) is arguably one of the most inclusive movements, as it contains immense potential for intersectionality.
What to expect at the march?
For Pondicherry University in Kalapet, Puducherry, 'pride', this semester, is an exciting word. It represents the promise of an evening- the first of its kind for this thirty year old institution- where we will all march together as equals, wearing our identities as badges of honour, and celebrating diversity. We will walk through the campus, reminding ourselves and others that the significance of a university lies primarily in nurturing minds and helping them to question, and to think beyond petty differences. We will sing, dance, rage and love– with the hope that our passion and resolve will contribute to a more welcoming campus for all. The number of volunteers for the Pride March is increasing every day and student political parties are wholeheartedly extended their support.
We will march to assert our existence to many whose responses range from ignorance ("What is pride march? I want to help, but I don't want to become gay!") to indifference ("This is a frivolous issue!") and everything in between. We will share our experiences, and answer questions- in short, we will open up the pride in our hearts to those around us.
Who are the organisers?
Spectra is a student support group, has been conceived to increase awareness about the queer community. It is an unregistered, loosely organized, completely student-funded group, which has no defined hierarchies or membership requirements. Through organizing the Pride March, Spectra aims to ensure that the everyday hardships of being queer are recognized. Bullying, ridicule, threats and incidents of violence and harassment, erasure and invisibility are just some of these adversities. The connotation of 'pride' is to empower each other and to build bridges across the vast expanses that separate us- and Spectra looks forward to the student body and teachers joining the march this September as a firm step in that direction.
Images courtesy of Spectra and Spectra: PU