Event Navigation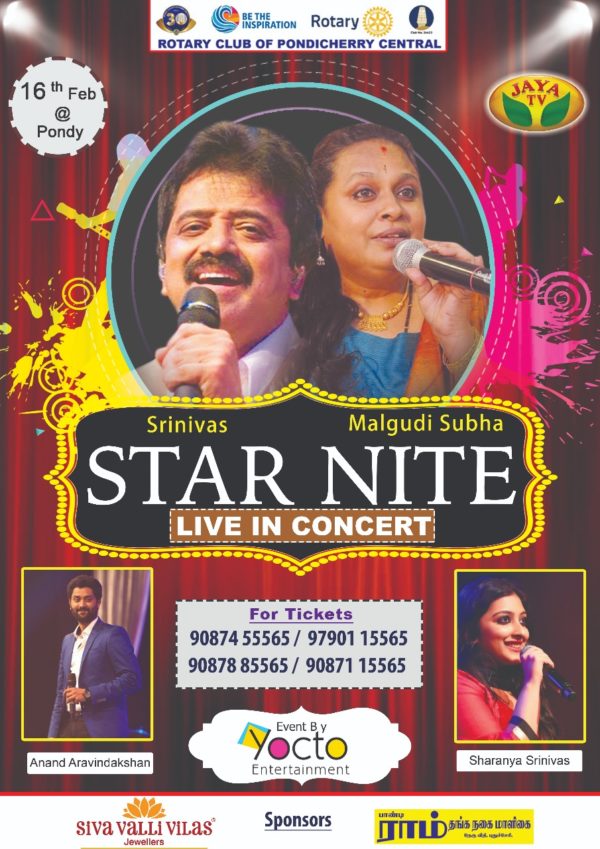 Star Night Live in Concert
Save the date and book your tickets– Star Night Live in Concert features two veteran playback singers alongside two youthful voices. Popular playback singers Srinivas, Malgudi Subha, Anand Aravindakshan and Sharanya Srinivas will entertain you with peppy chartbusters and evergreen melodies!
GET 50 Rs. OFF ON YOUR TICKET. USE CODE YOCTO10
Enjoy a breezy evening of music close to the Bay of Bengal at the Old Port in Pondicherry
FOR TICKETS : Click the red BOOK NOW button on top of the page
TICKET CATEGORIES
SILVER : Single Person Entry : Rs. 200
GOLD : Seating Near Stage: Rs. 500
DIAMOND: Round table Seating / Snacks served at Table/ VIP Access : Rs. 1000
Organised by the Rotary Club of Pondicherry Central with YOCTO Entertainment
WHO ARE THE PERFORMERS?
Two playback singers who delivered some of the best hits of the 90's in every South Indian language. 
Srinivas:
The golden voiced singer. Over 2000 songs in all South Indian languages 
Popular Hits: Minsara Poove (Padayappa), Ennuyire (Uyire), 
Malgudi Subha
The powerhouse vocals. Known for her upbeat numbers.
Popular Hits: Valpari Vattaparai, Thayya Thayya (Uyire)
Two youthful mellifluous voices
Anand Aravindakshan
Winner of Airtel Super Singer 2016; popular for his youtube acapellas that went viral
Sharanya Srinivas
An emerging favourite in classical and popular music concerts.
Popular Hits: Mersal Arasan (Mersal)
CONTACT:
90874 55565
97901 15565
If you experience any issues with online ticket booking, please write to info.pondylive@gmail.com for immediate trouble shooting.
Image courtesy of rotary clu