September 15 @ 3:00 PM

-

8:00 PM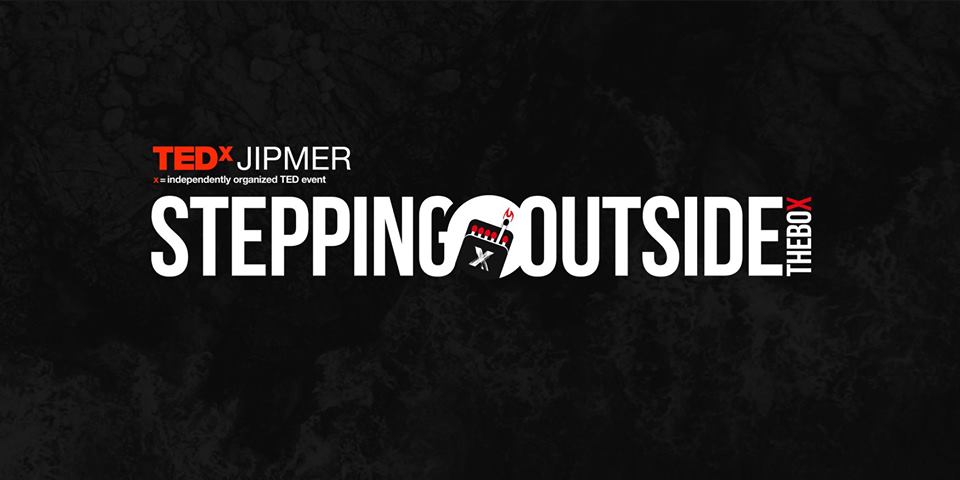 TEDxJIPMER 2018 will be an event that will promote new ideas in the medical and non-medical world – which is in consonance with JIPMER's ideals.
Theme: Stepping Out of the Box
Brace yourselves for a unique half-day event filled with creative energy sparking deep discussions about topics that matter!
REGISTER HERE
SPEAKERS:
Dr Gitanjali Batmanabane
Professor. Leader. Change-maker.
Gitanjali Batmanabane is an advocate for the rational use of medicines and established the WHO Collaborating Centre for Research and Training in Essential Medicines and Rational Use of Medicines at JIPMER, Puducherry. For a span of two years, she worked as Technical Officer, Essential Medicines & Other Drugs, at the World Health Organization, South East Asia Regional Office, New Delhi and coordinated the Better Medicines for Children project in India. At present she is the Director of the All India Institute of Medical Sciences (AIIMS), Bhubaneswar. She is a member of the World Health Organization's Expert Committee on the Selection and Use of Essential Medicines and also a member of the WHO Expert Advisory Panel on Drug Evaluation.
Karthikeyan Ganesan
Altruist. Psychologist. Trailblazer.
Karthikeyan Ganesan, a psychologist from Pondicherry, founded the Sristi Foundation, a non-profit organization, based in Thazhuthali Village (30km from Pondicherry), which runs several programs for people with intellectual and developmental disabilities. His projects include Sristi Village, an eco-friendly and self-sustaining village, Sristi Farm Academy and Sristi Special School, all of which aim to provide highly personalized education and opportunities to help disabled individuals live independently and generate their own income in the future. By stepping out of the box, he has managed to make striking advances in building capacities to empower persons with intellectual disabilities and their families.
Robin Uthappa
World-class athlete. Champion. Inspiration.
Nicknamed 'The Walking Assassin', Robin Uthappa is a renowned cricketer who plays for Karnataka in domestic cricket and Kolkata Knight Riders in the Indian Premier League. He successfully made his One Day International debut in the seventh and final match of the English tour of India in April 2006, with the highest score ever made by an Indian on ODI debut. He was a crucial factor in India's win at the 2007 ICC World Twenty20. He then went on to finish the 2014-15 Ranji Trophy season as the highest run scorer that season. In the IPL front, he has been playing for Kolkata Knight Riders since 2014, and has been a consistent run-getter for the team.
Aurofilio Schiavina
Marine engineer. Environmentalist. PondyCAN.
Aurofilio — known to all as Filio — was born and brought up in Pondicherry of Italian parentage. In love with the sea since
childhood, he completed his education at the Sri Aurobindo International Centre of Education and received a Masters in Tropical Coastal Management at Newcastle University. Aurofilio has worked in the field of waste water treatment, and has been engaging with the Puducherry Government for the restoration of the Pondicherry coast ever since he witnessed Pondicherry's beautiful beach disappear, with large rocks dumped in its place. In 2007 he co-founded PondyCAN (Citizen's Action Network), a broad-based, non-profit organization committed to preserve and enhance the natural, social, cultural and spiritual environment.
Dr. Arjun Kalyanpur and Dr. Sunita Maheswari
Dreamers. Doers. Accidental entrepreneurs.
Dr Arjun Kalyanpur and Dr Sunita Maheshwari co-founded Teleradiology Solutions (which reports over 100 health facilities in Asia, USA, Africa and Europe), Telrad Tech (which builds AI enabled tele-health software), RXDX clinics (multi-specialty neighborhood clinics in Bangalore), an online portal for radiologists, in addition to running two trust funds – People4People and Telerad Foundation. Amongst various accolades and achievements, in their efforts to use technology to successfully educate doctors and to help patients in remote areas of India and other parts of the world over the past two decades, these polymaths break the definition of the conventional doctors.