February 15 @ 8:00 PM

-

February 17 @ 8:00 PM
Event Navigation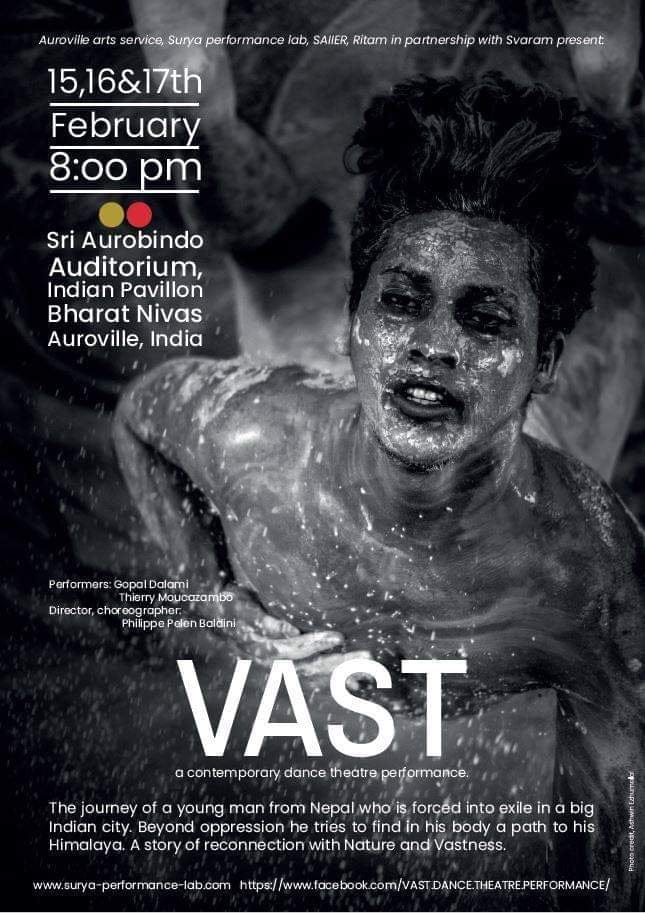 VAST
 Theme
How the human body carries in itself the memory of the Vast.
How the human body – beyond ruptures, oppressions, and confinements – has nostalgia of Nature and Vastness.
STORY
VAST is a contemporary dance theatre show. It tells the journey of a young man from Nepal who is forced into exile in a big indian city. Beyond oppression and confinement , he tries to find in his body a path to his Himalaya. He is accompanied in his journey by the monkey God : Hanuman. A story of reconnection with Nature and Vastness.
Staging notes
We draw upon contemporary dance, theatre, vocal work, and even aerial dance to explore this inner territory between confinement and Vastness. From gravity to weightlessness, it is also an exploration of the body being free, of free movements in three dimensions, and of an expansion into Vastness.
Beyond all ruptures and exiles, it is a process of reconnection with the Himalaya in a metaphorical sense.
VAST is an organic dance theatre performance: hypnotic, physical, universal.
Duration of the show: 1 hour
Team
Direction and choreography: Philippe Pelen Baldini
Performers : Gopal Dalami ,Thierry Moucazambo
Light: Ashwin Ezhumalai
Sound: Philippe, Thierry, and Gopal in collaboration with Svaram
Musical composition: Varun and Nadia (Svaram)
Co-production: Barbara Paschinger, Ritam Auroville, SAIIER, Auroville Arts Service, Surya Performance Lab, Porteurs d'eau, Svaram.
Premier will be on 8, 9, 10 of February at 8 pm. in Barathnivas Auditorium, Auroville ,Tamil Nadu, India.
Image courtesy of VAST dance theatre performance