June 19 @ 10:00 AM

-

June 26 @ 5:00 PM

UTC+0
Event Navigation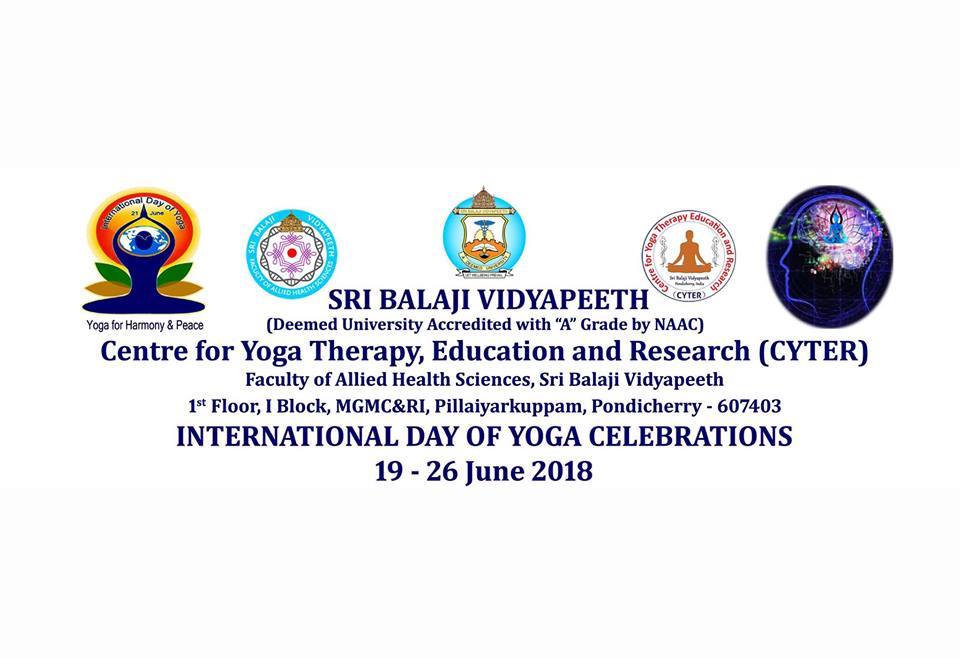 IDy 2018 Program Schedule
• Tuesday, 19.6.2018 – Promoting Mental Health in Silver Citizens through Simplified Yoga Practices: Awareness program at Serene Pelican
• Wednesday, 20.6.2018 – "Yoga for all", Awareness Program on Yoga for General public at MRD, MGMCRI, SBV
• Thursday, 21.6.2018 – Mass Yoga Demonstration at the Promenade of Pondicherry Beach along with other programs in association with the Tourism Dept., Govt., of Puducherry.
• Friday and Saturday,
• 22 & 23.6.2018 – Promotion of physical, mental and emotional harmony for Caregivers (parents and teachers) and children with special needs through Yoga. Program for the Satya Special School, Pondicherry.
• Sunday, 24.6.2018 – Importance of Psychological health and well-being in Transgender population in collaboration with the Sahodaran Community Oriented Health Development (SCHOD) Society at Head Office of SCHOD Society
• Monday, 25.6.2018 – Regional Level Yogasana Competition for students of Health Professions Educational institutions of the Puducherry region in association with Pondicherry Yogasana Association
• Tuesday, 26.6.2018 – National Seminar on 'Swastha Manas': Mental Health and Well-being through Yoga at SBV.