This weekend, treat yourself to something steamy! The 'Dim sum by the Bay' festival at the Bay of Buddha restaurant on the  Promenade Hotel rooftop has some interesting food pairings.
Originating in the Cantonese region of China, dim sums are typically small portions or bitesized portions of steamed  food 
The special menu has been curated by Executive Chef at The Promenade, Peram Mohan and his team.
OUR TOP 5 DIM SUM DISHES:
1. Classic Veg Wonton Soup:  Start your meal with the vegetable wanton soup . The stock is light and flavourful with chunks of shitake mushrooms and bok choy. 
2. The pan-fried Spinach and Asparagus Gyoza (a Japanese dumpling) is easily the yummiest option for vegetarians. Crisp on one side and soft on the other, it is served with schezwan sauce and chilli vinegar dip.
3. The wrapper of the Crystal Seafood Dim sum is quite intriguing. A translucent sheath (made of wheat starch and potato starch) gives a sneak peek into the succulent seafood stuffing inside. This is accompanied by Schezwan sauce and a minty ginger dip.
View this post on Instagram
4. The Cantonese-style Prawn and Pork Shumai- our favourite of the evening- has sweet and umami undertones. It is packed with juicy pieces of meat and prawn, cooked Oriental-style. Though it is served with schezwan sauce and ginger-mint sauce, it hardly needs a dip to complete it.
5. End your meal with the Darsan and you are sure to be sweetly surprised. The dessert fits in with the dimsum theme- made of deep-fried wonton sheets which are coated with honey and sesame seeds. The sweet and sticky dish is served with home-made matcha icecream.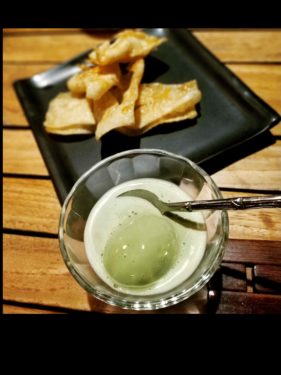 The Dimsum by the Bay festival is from 7 p.m. to 11 p.m. till March 17
For enquiries : +91 97917 26362
Cost of individual dishes range from Rs. 300- 550
Disclosure: Pondylive reviewed the food festival on invitation by The Promenade. 
FEATURE PHOTO: MISS BALING (IN THE MOOD FOR LOVE)