One question almost every foodie who visits Pondicherry has is, "Where can I find good seafood?"
Here is your answer! If you're looking for a South-Indian style sumptuous seafood meal, you don't have to go further than this weekends-only special seafood thali at Santhi Inn . Here's why!
1. Straight from a real grandmother's kitchen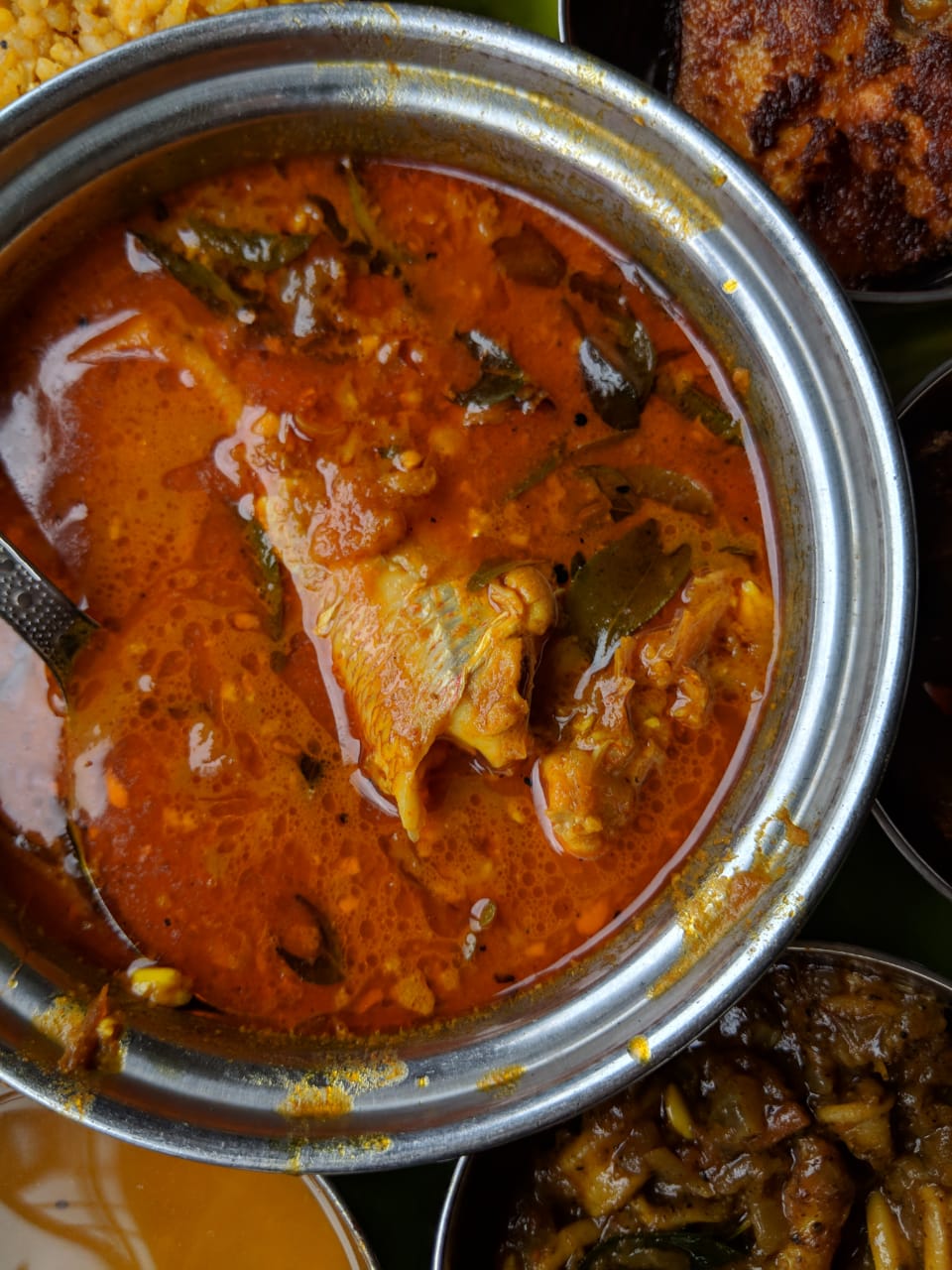 The highlights of the thali, the golden fish curry and the oh-so-comforting prawn rice (not to be confused with prawn biryani or prawn fried rice) are recipes straight out of the kitchen of the proprietor's grandmother and are prepared by her.
These are typical dishes I grew up eating as part of my family's Sunday seafood meal, shares Aroun Gopinath.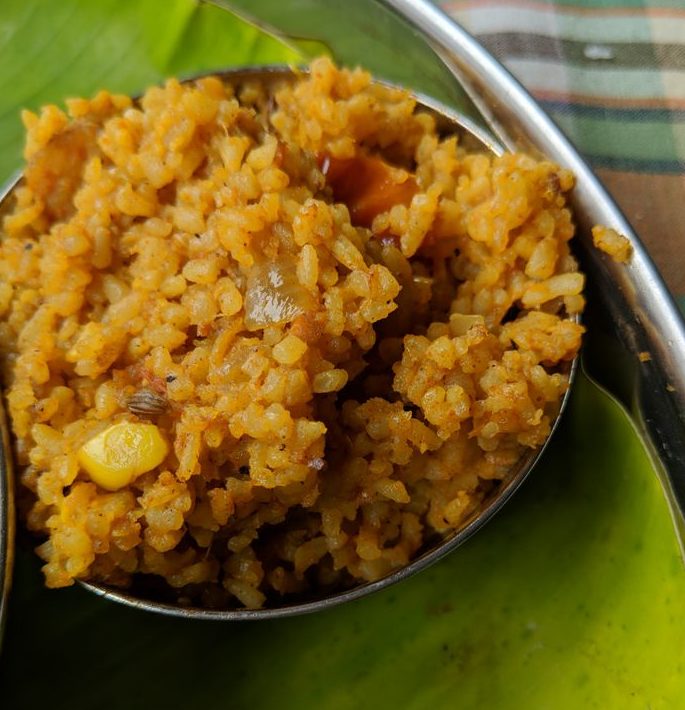 The fish curry has an enveloping tangy tone of tamarind and the prawn rice is something some Pondicherrians might recall from the days they carried lunchboxes to school.
2. Seafood ! Seafood! Seafood!
Apart from the prawn rice and the fish curry, there are two- yes TWO types of fried fish! One is a deliciously flavoured, fried single piece, and the other is a whole bowl of crispy anchovies or nethili , which is perfect when paired with the cold glass of beer, that you can order complementary with this thali!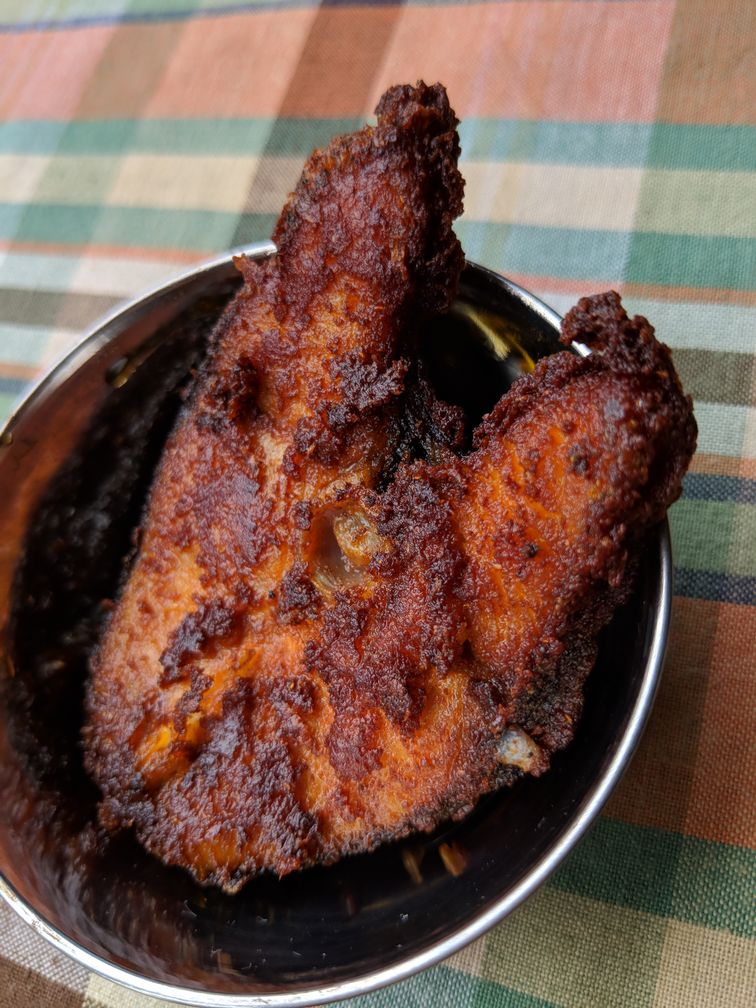 Oh, and did we tell you there is squid too? The kanava thokku bursting with flavour, tastes even better when mixed with the rice and made us offer a silent prayer of thanks that the squids were not rubbery, which is sadly the case at many eateries serving squid. 
3. Bonus: A vegetarian thali !
In the rare case you found yourself missing any of the regulars from a vegetarian thali like that yummy potato fry or can't-live-without rasam, this thali has got you covered! Besides, there is also sambar, spinach kootu and broad beans. Plus, unlimited rice and of course, the ubiquitous appalam! Double Burp!
4. A free drink! 
How many times at a South-Indian restaurant have you thought if only a glass of cold beer could magically appear along with that batter-fried fish ? Or maybe you just wanted to chill with a  glass of red wine during a long meal on a lazy afternoon! This thali, understands all our feelings,  and packs in a complementary alcoholic or non-alcoholic beverage.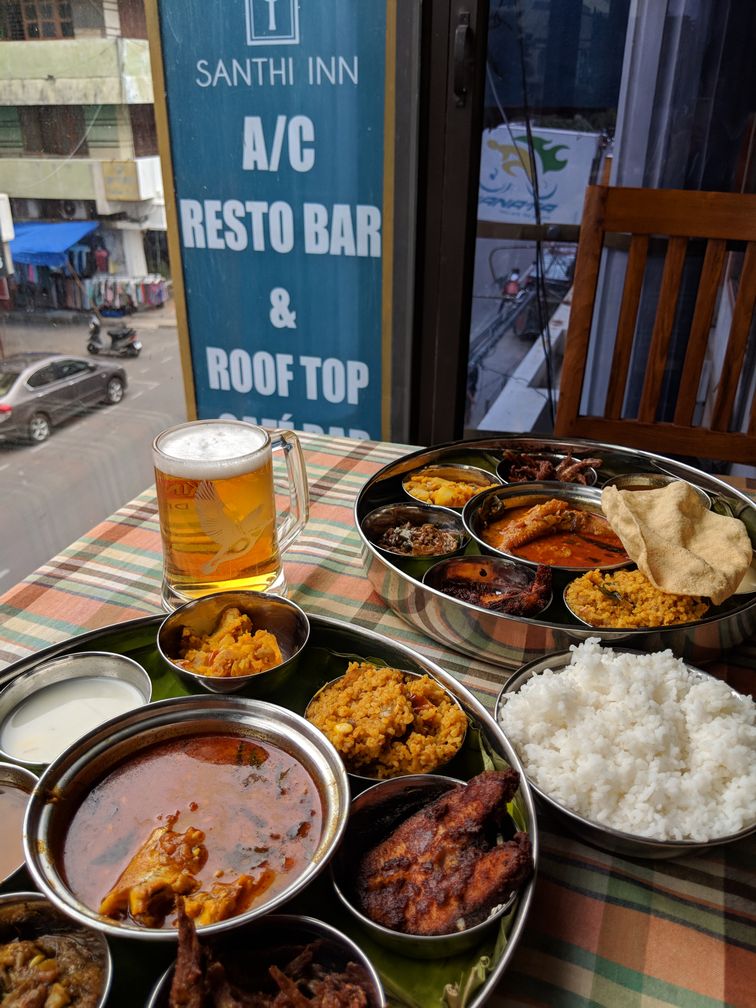 If you'd rather steer clear of alcohol , you are offered a choice between lime soda and fresh fruit juice. Take your pick!  Considering  this is a lunch-only thali and Pondy afternoons can be sweltering, this is the perfect respite from the heat outside.
5. Home-made kulfi
After a small bowl of vermicelli payasam , there arrives this darling, biscuit colored kulfi! We will caution you to save some space for this not-to-be-missed part of the meal.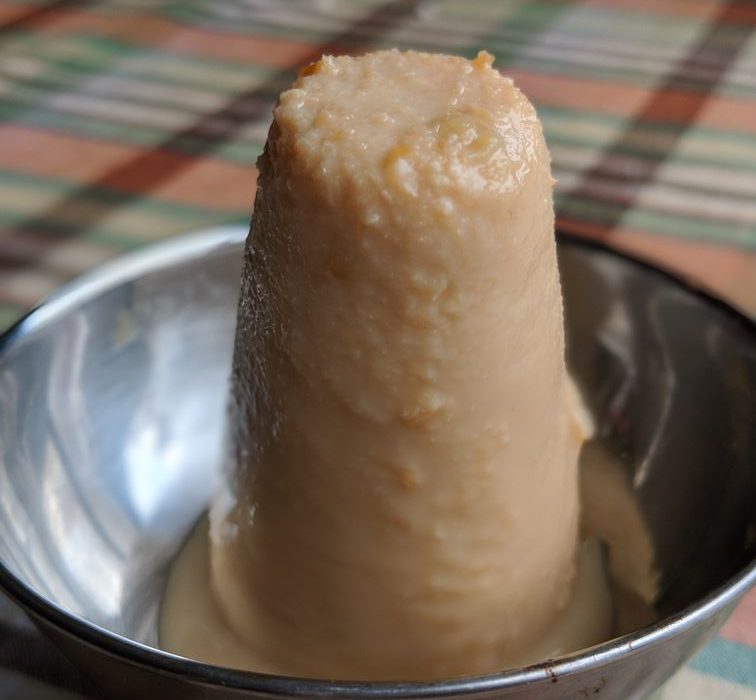 The kulfi is a recipe that has been perfected over 50 years and is straight out of a tiny ice-cream shop tucked near the entrance of Goubert Market on M.G. Road- Pondy Ice -creams.
6 Eat surrounded by snapshots of history 
The decor while simple, is interspersed with black and white photographs of a bygone Pondicherry. You will spot some political celebrities, perceive the sense of fashion in colonial Pondicherry, find out how the Promenade looked before the Gandhi Statue was installed, and smile at some endearing family photographs. Or this typically aspirational sketch of a couple in saree and veshti walking in front of the Eiffel Tower!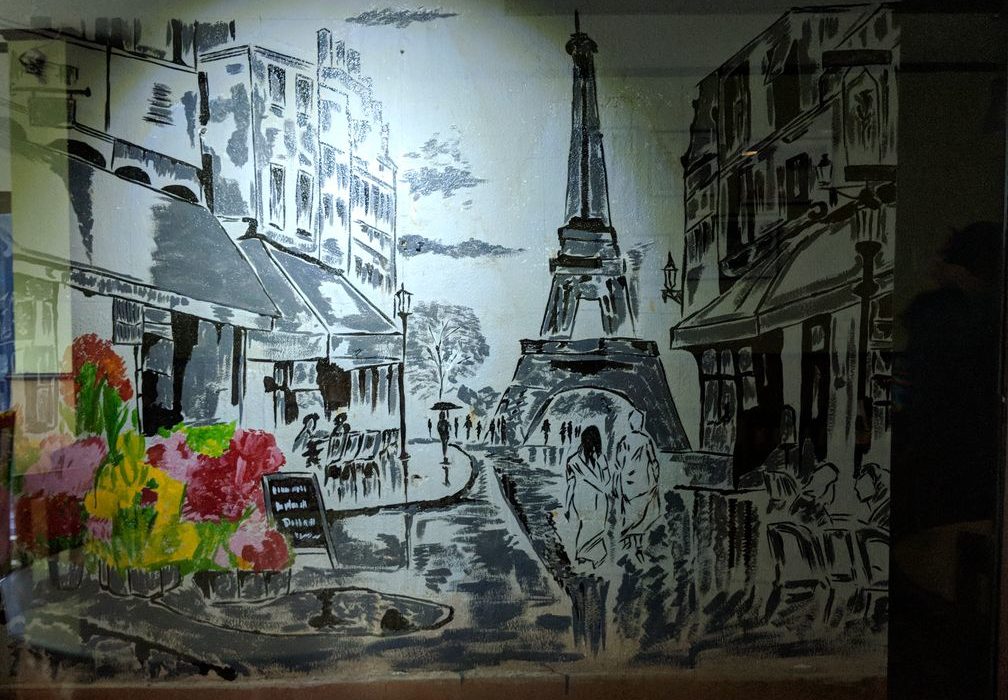 7 The touch of home
What sets this seafood thali apart from others in Pondicherry (besides all the reasons we mentioned above), is the remarkable home-style preparation of every dish. It is a tendency for restaurants to dial up the spice and oil quotient.
But Santhi Inn's seafood thali makes you believe you've been invited for a meal with a family. The dishes are all mildly spiced, and are a happy mix of comfort, nostalgia and rich flavour.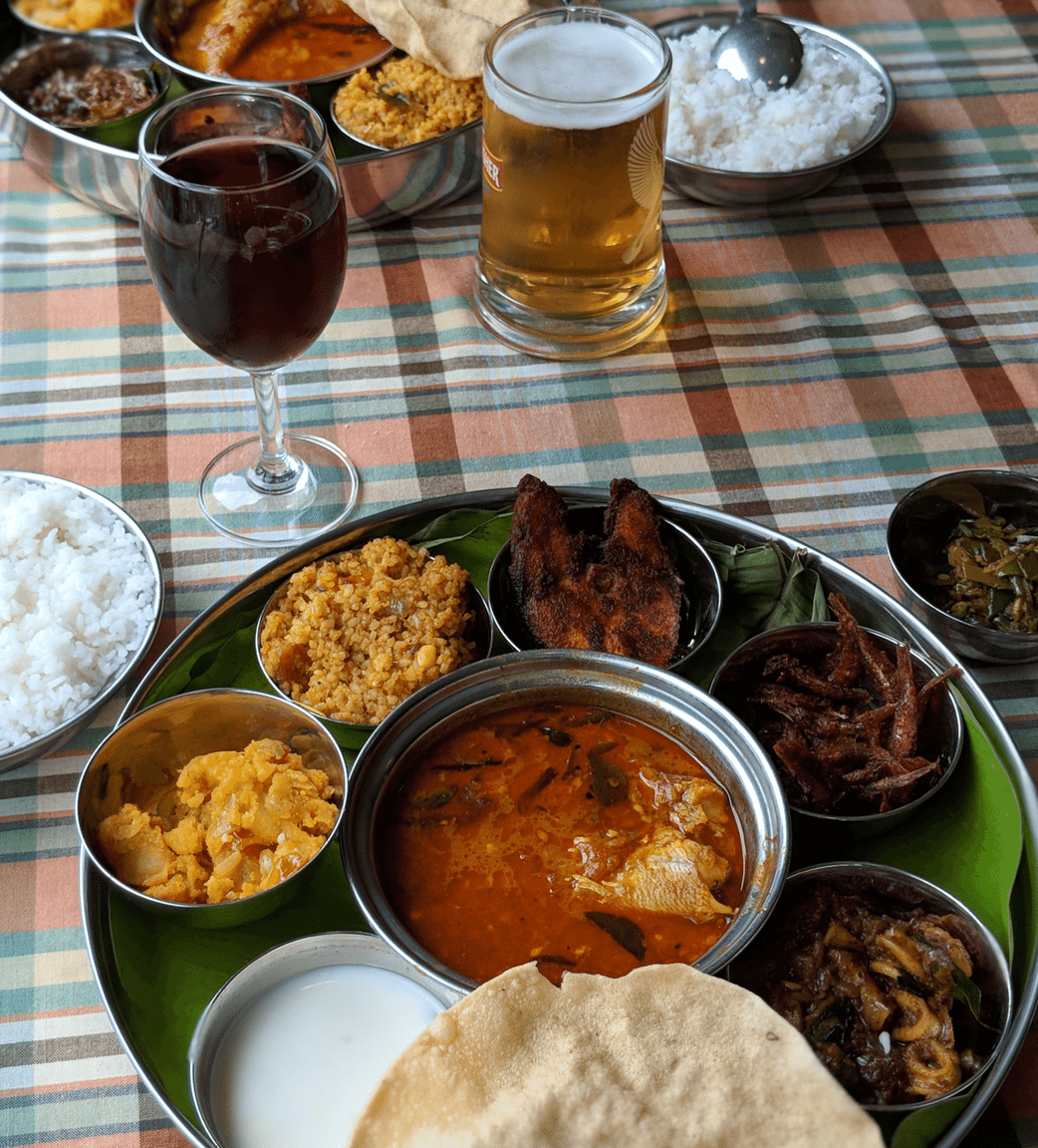 So, mark this spot for your weekend lunch now – this thali is perfect for locals looking for a taste of home and for visitors who want a seafood meal, Pondicherry style! 
Where: Santhi Inn, 57/59, Jawaharlal Nehru Street, Pondicherry.
When: Saturdays and Sundays, 11.30 a.m. to 3 p.m.
Price: Rs. 399
Call: 93841 23424, 0413 222 0946, 0413 222 0948
Text: Marianne Rayer. Photos: Olympia Gerald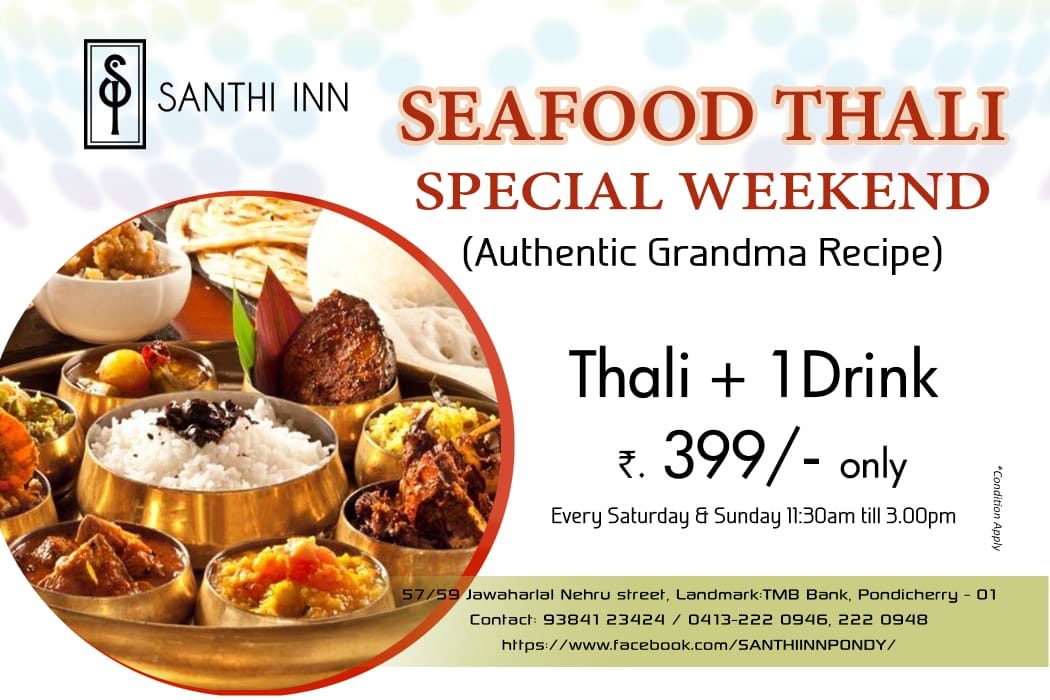 This content is produced by PondyLive and is paid for by Santhi Inn