If you're stuck at home with no shops open nearby during the 21-day lockdown, here are some vegetable and grocery home delivery services in Pondicherry that you can call. We will keep this list updated.
NEW UPDATE: Grocery stores/ vegetable markets etc can stay open only from 6 am- 2.30 pm from April 1- 14. Online deliveries, pharmacies and Ponlait milk booths are the exception.
Home Delivery 
Groceries 
GOVERNMENT INITIATIVE : District Administration & Pondicherry Traders Federation
Delivery within 24 hours at your doorstep

Call between 9 am and 6 pm
No delivery charges
How to Order: Fill in and submit this form or call the nodal officer/ merchant for your constituency from the list below.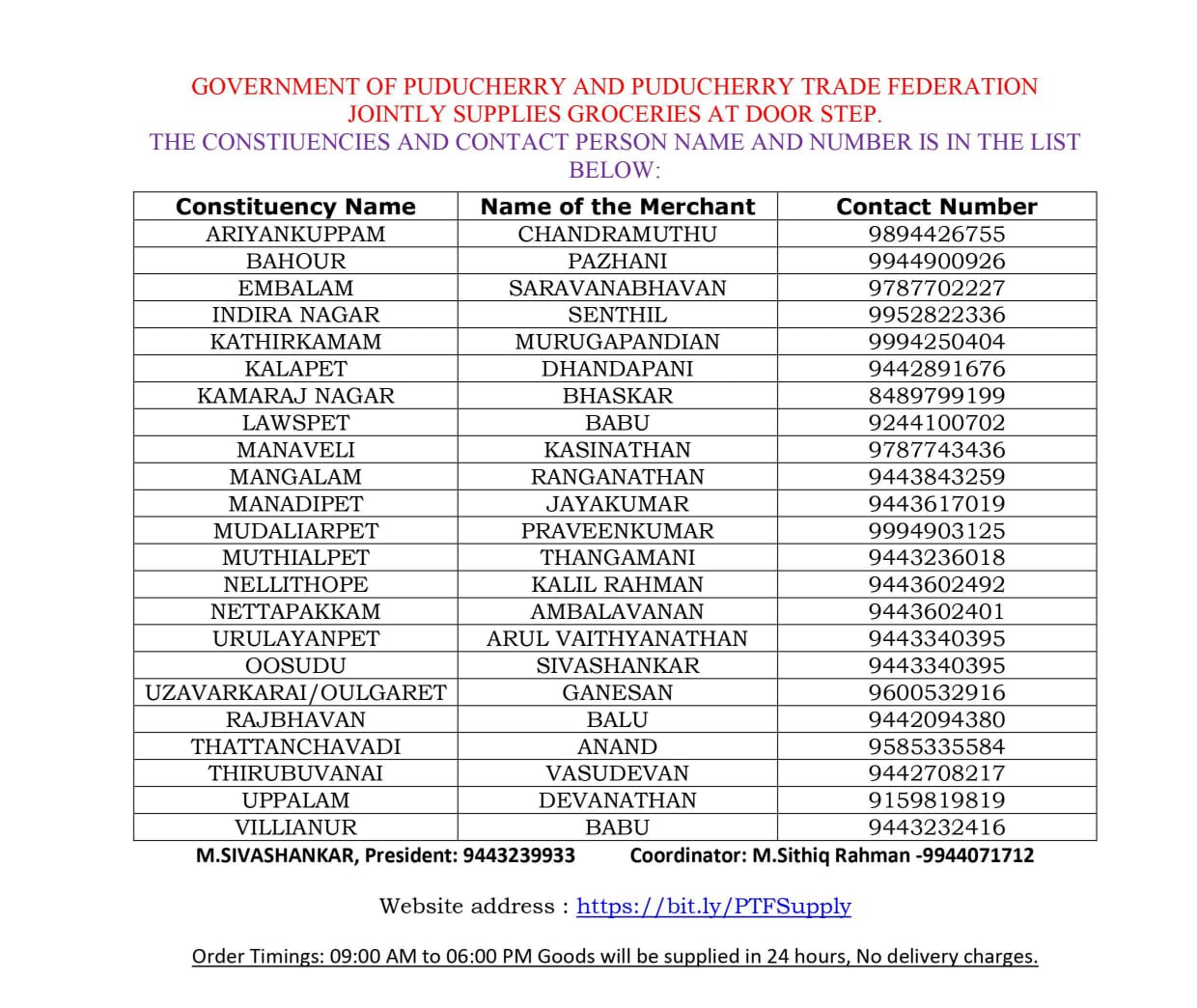 1. Pothys Superstore 
Areas Covered: Pondicherry : Boulevard Area, Saram, Lawspet etc
Phone: 90427 70601
Minimum Order: Rs. 2000 (limit raised as of March 30)
2. Big Bazaar, Providence Mall
Areas Covered: 8 km radius from Providence Mall
Whatsapp: 97872 72513
Minimum Order: Rs. 2000
Pay on delivery at  home by cash/ debit or credit card
3. Le Mart  (Also  Supplies Vegetables & Fruits)
Area Covered: Pondicherry
Supplies groceries, vegetables, fruits
Phone: Whatsapp: 82700 00368; 82702 82828
4. Daily Needs
Areas Covered: Saram and areas around; Moolakulam and surrounding areas
Phone: Saram 74022 99999 (WhatsApp); 97885 99344 (Moolakulam)
Minimum order: Rs. 500
5.  Balaji Maligai (Temporarily suspended as of March 30)
Areas Covered : Pondicherry town, Villianur, Arumparthapuram, Sulthanpet, Nellithope, Oulgaret, Reddiarpalayam, Uzhavarkarai, Moolakulam, Manaveli,Uruvaiyar, Thattanchavadi, Muthirapalayam, Kombakkam, Mangalam, Vadamangalam, Thennal, Korkadu, Ariyur, Pangoor
All payment methods accepted
Phone: 97913 15618/ 81472 78847
For latest updates follow Pondylive on Facebook or check out our instagram stories where we answer questions.
Vegetables 
1.Iyarkai : Assorted Bag of Vegetables: NEW
Areas Covered: Almost all Pondicherry areas: Till Kalapet on ECR, till  Ariyankuppam towards Cuddalore side and till Moolakulam on Villupuram side.
An assorted bag of vegetables for Rs. 250
Ahimsa Organic Agri-Tech Company is a partner of TNSCM ( Tamilnadu Supply Chain Management ) run by Government of Tamilnadu Agricultural Marketing Department.
2. SK Fruits & Vegetables, Goubert Market (Ramadevi)
Areas Covered:
Boulevard Area (7 am- 8 am)
Rainbow Nagar, Muthialpet, Mudaliarpet, (9 am – 10 am)
Saram, Ariyankuppam and areas 10- 15 km from market (10 am- 11 am)
Delivery Fee: Rs. 20- 50 based on distance
Supplies vegetables, greens. etc
SMS: 97901 44667; 98941 41658
Please mention mode of payment on message: GooglePay or Cash
3.  Azeez : SatMark
Areas Covered: Muthialpet & Boulevard Area/ White Town
Note: Please call one day in advance
Phone: +91 96773 63494
4. KL & Co 
Area Covered: Pondicherry town, Saram, Reddiarpalayam, Moolakulam etc
Minimum Order: Rs. 400
Delivers vegetables and fruits
Phone: 99432 99162 / 80565 55308
Organic Vegetables & Groceries 
Gratitude Farms
Area Covered: Pondicherry
Supplies organic vegetables, greens, limited grocery items , pesto, juices etc
Minimum Delivery: Rs. 300 (No cash on delivery due to Covid19 precautions )
Delivery Time: Monday to Saturday 10am to 1 pm and 4pm to 7pm
Website: Order : https://gratitudefarms.co.in/shop
Phone:  93609 03654; 93609 03659
Krishnaa's Organic Farm
Area Covered: Pondicherry
Delivery Charge of Rs. 50 applies
Combo Packs of Groceries. Vegetables & Fruit Combo pack starts at Rs. 300, Rs. 325 and Rs. 600
Only 50 deliveries per day. So there might be a delivery wait of  3-4 days. Please order in advance
Phone: 96000 42507
BREAD: PICKUP
Le Petit Four: Baguette, Sandwich Loaf and 80% Wheat Loaf  (Rs. 55, Rs. 70 and Rs. 90) Butter Croissants (Rs. 75 first come, first serve basis)
Shop not open, but available for direct pickup from production unit in Chetty Street . Please call before delivery
Address: #81 , Opposite Jaya Utopia, Chetty street (between Mission Street and MG road)
Phone:  91 63791 79469
ALSO READ : Updated: What's Open & What's Closed in Pondicherry: Covid-19 Lockdown
What Else is Open :
Ponlait Milk Booths
Pharmacies
Small neighbourhood vegetable and grocery shops
MARKETS
Big Market/ Goubert Market is temporarily closed (Updated March 30) .  Instead you can buy vegetables from existing markets and new temporary markets .  Find the market closest to you here
GROCERY SHOPS THAT ARE OPEN (Must close by 2 pm from April 1- 14)
Rangapillai Street
Nilgiris Department Store (closed as on April 1 )
Kovai Pazhamudhir
Anna Salai
Pothys Superstore
Capitaine Marius Xavier Store
Ibrahim Stores
Bazaar St Laurent Street
Pramis
Bussy Street
Fathima's
Vaithikuppam/ Kuruchikuppam/Papammal Koil Street
Akshaya Stores, Iyyanar Stores and many small shops
Ambour Salai
Selvi Stores (behind Cafe Coffee Day)
Lawspet 
Home Needs, Airport Road (open in the evening)
Ponniamman Stores, 6th Cross, Kurinji Nagar, Lawspet
100 Ft Road
Bismi General Store (Opposite New India Insurance )
Editor's Note:
Please help us help you and other Pondicherrians.
If you know of any grocery/ medical/ vegetable delivery service or if any grocery/ meat/ fish shops  are open in your area , kindly indicate in comments below or mail info.pondylive@gmail.com . We get several enquiries from readers and followers in various areas of Pondicherry and this would be useful to them.
Senior Citizen Help 
Know of any senior citizen or individuals who are unwell and need help with picking up medicines etc?  Please email us on info.pondylive@gmail.com or WhatsApp us to get our area-based volunteer list. Our volunteers in the area can pick up and deliver prescription medicines etc. You can also WhatsApp 90477 90994 or 80727 51016