If you step into Pondicherry's 'purely chocolate' cafe, Zuka, you are sure to break into a smile!
The man who has made millions laugh with his comic acting, Sir Charles Spencer Chaplin, simply known as Charlie Chaplin, will greet you himself, in 5. 5 feet of pure chocolate! The Pondicherry cafe has paid "The Little Tramp" a grand tribute with a replica carved out of 268 kilograms of edible chocolate.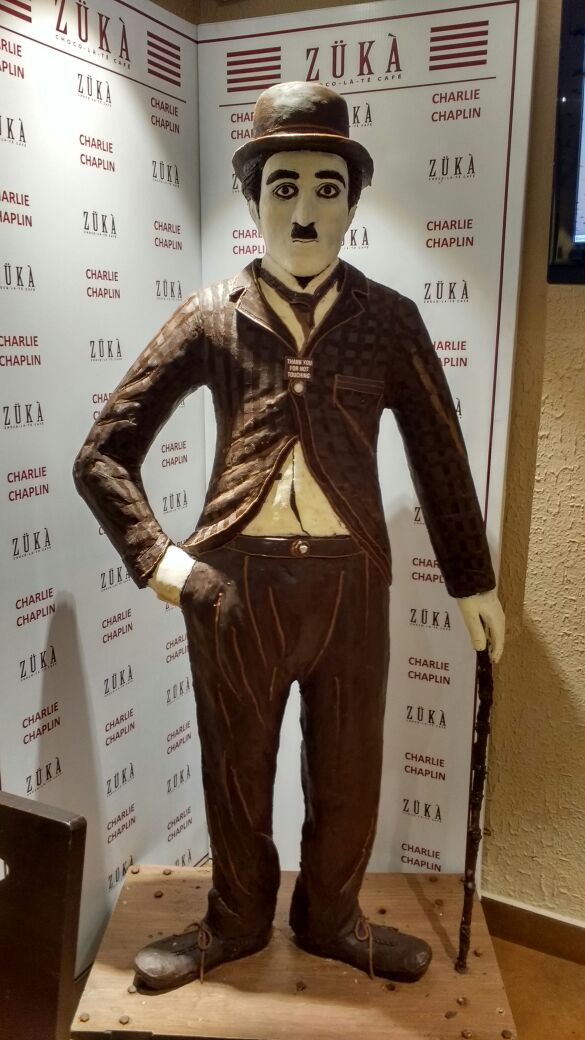 But it was not exactly a cakewalk to replicate the legendary artiste, who has been patented from head to toe. Zuka had to obtain permission from the legend's family (Charlie Chaplin™ © Bubbles Inc. S.A.) before embarking on the process of casting him in chocolate, says Srinath Balachandran, proprietor of Zuka. He claims it is the first time in the world that a life-size statue of edible chocolate has been created for Charlie Chaplin. "This Christmas marked 40 years since the death of Chaplin. Our chocolate tribute has been made using six varieties of chocolate."
EIGHT-DAY WONDER
What is noteworthy is that Creative Chef Rajendran sculpted the statue in just eight days. However, this is not the first time Zuka has created life-size chocolate sculptures. Previous exhibits include a 12-foot train and replicas of the Statue of Liberty, Mickey Mouse, Gandhi,  A. P. J. Abdul Kalam and Rajinikanth. Chaplin's chocolate tribute will be recycled to make another chocolate statue for Zuka firmly believes in the quote framed on their walls, "Save the Earth. It is the only planet with chocolate."
So head to this sinful stretch of Mission Street to greet Charlie in all his chocolate glory, waiting silently to charm folks, just like he did decades ago on the silver screen.
Zuka is open from 9 a.m. to 10.30 p.m.