If you're a tourist looking for information on Pondicherry's famous Promenade Beach, just walk up to Constable Singam.
He is easy to spot,  standing tall and mighty with a smile on his face beneath a twirled moustache, right in front of the Tourist Police counter. He flaunts the blue cap of the newly minted 'tourist police' on his head,  instead of the signature red kepi that constables in the union territory wear. He resembles a cop from a Kollywood film- atleast, his name is borrowed from one of Tamil cinema's highest grossing cop films!
Only, he is made of fibre, stands inside a kiosk and holds a touch-screen!
Though nicknamed a 'robocop' and touted by various media to be a form of artificial intelligence (AI) , Constable Singam is basically a fancy help-desk wearing the disguise of a policeman, sporting a formidable moustache!  While a microphone attached to the screen lets passers-by ask questions, it is actually a real policeman sitting inside the Tourist Police office who replies to these questions!
Singam is a student project 
The touch-screen in Constable Singam's hands has information categorised under four categories : history of Pondicherry, hospitals, police stations and tourist attractions. While language options include Hindi, Tamil and Telugu, presently Kavalar Singam spouts only English. There are photos of Pondicherry through the ages and even images of old documents.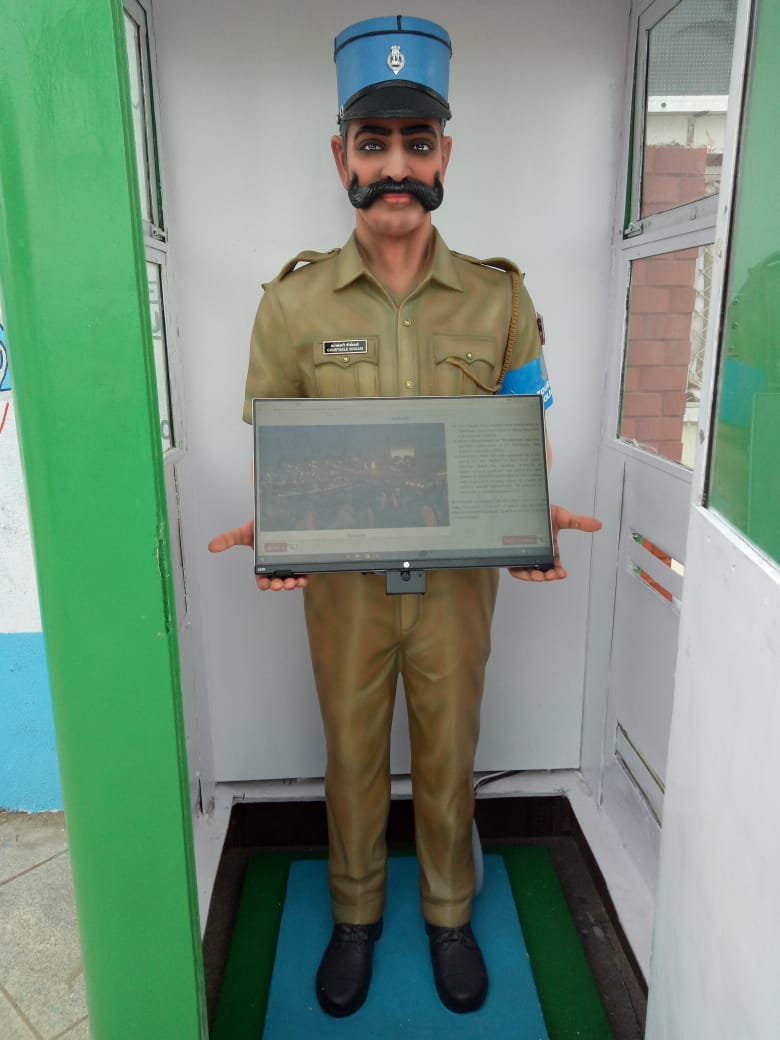 This user-friendly interface was developed by three MCA students from Pondicherry University – Dhiraj Kumar, Koyel Pramanik and Rahul Kumar – under the guidance of associate professor,  S. Sivasathya. "It took us three days to develop the software while settings were made in another two days as per the requirements of the police department," says Dhiraj, adding Constable Singham might be equipped with AI in the future. According to a tourist police constable, the  idea was mooted by Puducherry DGP Sunil Kumar while the fibre sculpture was cast by veteran terracotta craftsman Villianur Munusamy.
Questions we asked Constable Singam
Which is the nearest hospital from the beach?
Ma'am you have a General Hospital 500 metres from here or you can go to Cluny Hospital, if you are looking for private hospitals.
 Where can I rent bikes in Pondicherry? How much will it cost me?
Bikes are available at Mission Street, between Kosakadai Street and  Chetty Street, m'am. It will cost you Rs. 300 to 400. Make sure you have your licence.
When does the Boat House open and what is the fare ?
The boat house opens at 7:30 in the morning and closes at 6 pm. If you are comfortable travelling with many people on a big boat, it will cost you Rs. 200. Or if you are looking for a smaller boat to share with a friend or family, it will cost you Rs.1200.
 When is the last bus from Pondicherry to Chennai and from Pondicherry to Coimbatore?
 To Chennai, you can catch the last bus at 10 p.m. If you want to go to Coimbatore, you have a PRTC service at 9:30 p.m.
(The answer to the bus timing question turned out be incorrect as another cop rushed out to tell us that they had made a mistake and offered a bus time table for reference)
Constable Singam under lock and key ?
Constable Singam was formally installed on June 10 by Lieutenant Governor Kiran Bedi and Chief Minister V. Narayanasamy, along with a host of top police officials.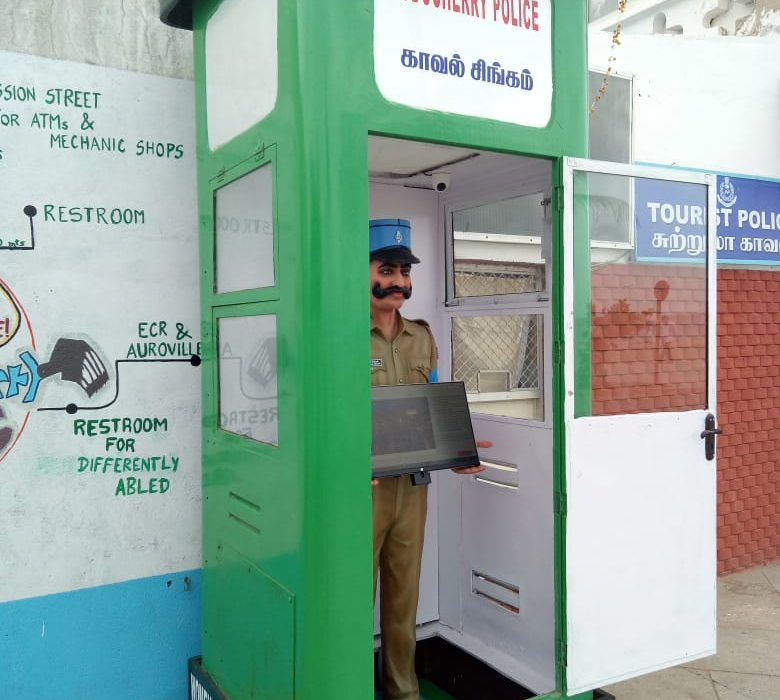 Surprisingly, on approaching the robocop earlier this week, around 5 p.m. , we found the kiosk  locked. The tourist police office personnel who opened the door, said it was done to protect the touch-screen from strong sunlight. One hopes if Constable Singam is to help needy tourists 24 x 7,  he wouldn't stay inaccessible, under lock and key. Also, it would be a cool display of AI to see him reply to questions, instead of a human cop posted inside the tourist office.
For now, Constable Singam is at your service on Beach Road!
READ: #PlasticFreePondy: How Pondy does it
Did you find Constable Singam's answers to be accurate? Have you interacted with him? Tell us in the comments below