Do you know there are places in Pondicherry where little ones can whip up mouth-watering snacks?   Get your kids started on an exciting culinary adventure today!
Bake a cake
A compact confectionery with a delectable name on the upscale Mission Street, Sugar Lips is manned by a rather friendly chef who lets kids try their hands at making cakes, cupcakes, cookies, and snacks like cutlets. Each session lasts for about two hours in which kids can prepare one or more items, depending on the dish and the child's patience!  The bakery prioritises hygiene, and children get a taste of it when they wear the chef's hats handed out to them.  Toddlers love sprinkling their favourite toppings before making the cupcakes disappear in no time!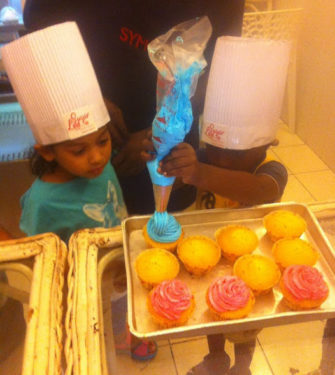 Available from 10 a.m to 10 p.m.
For ages 4 to 10
Cost: Rs. 250 per head.
Contact: 91-98408 89001
Pizza time
On the same street, popular pizza joint Domino's Junior Pizza Maker activity welcomes groups of 5 to 10 kids to make vegetarian and non-vegetarian pizzas. Kids have loads of fun right from rolling out the dough to slicing the pizza after strewing it with appetizing toppings of their choice!  The gobbling up of their own hand-made pizzas is a sight to see.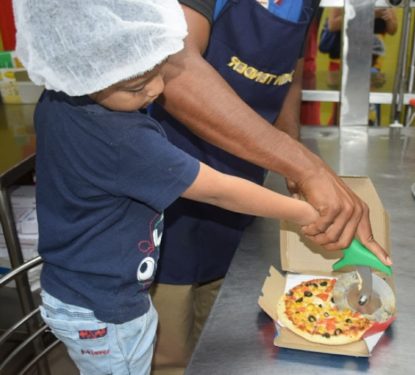 Available from 10 a.m. to 6 p.m 
For ages upto 10
Cost: Rs. 100 (GST not included)
Contact: 0413-2201222
Up for a snack?
The Indo-French Sita Cultural Centre conducts cookery classes almost every weekend for little ones. Little chefs-in-the-making find it of great interest to learn how to dish out snacks like samosas, pooris, cutlets and bondas in their two-hour classes under the supervision of caring instructors. Occasionally, baking classes for kids are conducted too.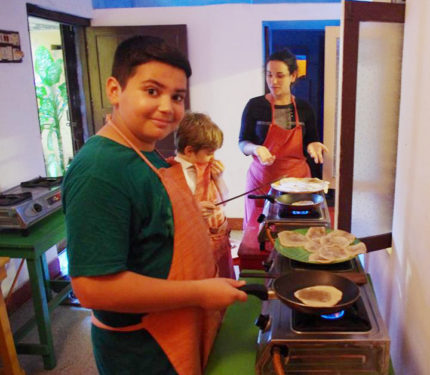 Available on Saturday afternoons: 1st and 3rd week (Indian snacks)
For ages above 8
Cost: Rs. 500 per class (Rs. 400/ class for members)
Contact: 04134200718, 9944016128
So are you all set for grooming your Junior MasterChefs?
Images courtesy of Amoolya Kamalnath | PondyLive and
Team PondyLive
| Pondy Live