After 9 days of performances, workshops and discussions intended to  bring together mind, body and soul,  Kalarigram's annual festival, Tantrotsav ends with a spectacular all-night line up of cultural events today on Mahashivarathiri.
The day typically starts with a Sri Chakra Navavarna Pooja followed by Satsang. But the most exciting part of the festival is its diverse line up of cultural performances open to the public.
This year, expect to watch Chendamelam, Thiruvathirakali, Theyyam,  Kalaripayattu by Hindustani Kalari Sangam, Mohiniattam by Jayprabha Menon, Malkhamb, Goshayatra, Gurusi Tarpanam, Baul music, Chau by Carolina, martial arts and Baul music at the new amphitheatre .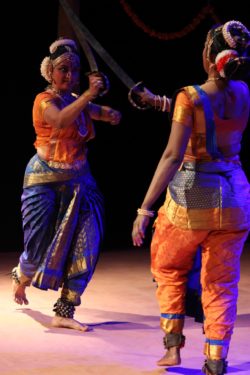 Conversations across different art forms
"Every year, the purpose of the festival reinvents itself, as it is organized by the community. The main purpose is to create a safe space for artists to engage and express across their disciplines," says a volunteer with the event, who has been with the festival for the last three years.  "Tantrotsav is a place where traditional arts and artists are given the chance to engage in a modern cross-disciplinary conversation, without bringing political or religious view points into consideration."
This year's festival saw many masters in the arts including Laurence Morlon (Pralaya Yoga), Nikhil Varagiri ( Kalari) and Balakrishnan Sadanam (Kathakali) interact with enthusiasts. The daily Satsangs or conversations revolve around spirituality in all its forms as well as philosophy.
The audience who show up for Tantrosav are varied, with diverse interests. There are Kalari students who attend the events to watch the practical aspects of their training, artists who attend to engage with myriad art forms , travellers, and people who are drawn to the philosophical and spiritual aspect of the conversations that happen.
Images courtesy of Kalarigram and Kala