Think of Auroville and the first image that pops into your head is the Matrimandir. The golden orb-like structure has come to symbolise Auroville to the outside world. Now you can find the Matrimandir (literally meaning , 'temple of the mother') on a stamp issued by India Post on February 25 to commemorate 50 years of Auroville's foundation.
The commemorative stamp also features portraits of Sri Aurobindo and The Mother on either side of the Matrimandir. The stamp was released by Prime Minister Narendra Modi on the occasion of Auroville's Golden Jubilee celebrations at the international township.  Read the full text of the Prime Minister's speech at Auroville here .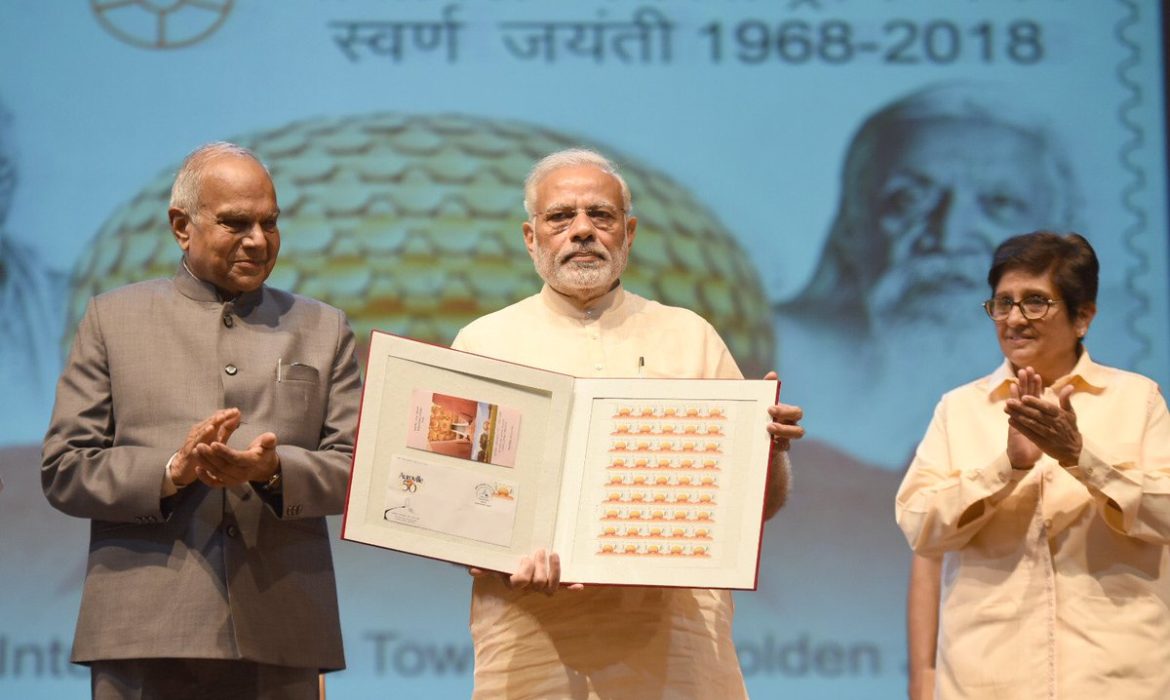 A first day cover was also released along with the stamp. The design on the cover features the Golden Jubilee logo and a sketch of the urn which sits in the middle of the Amphitheatre close to the Matrimandir. The lotus -shaped urn is significant as it contains soil brought by representatives from around 125 countries for the inauguration ceremony of the township on February 28, 1968 .
In a gesture echoing the foundation day, water from over 300 places on the planet was mixed and poured into a disc-like urn on February 28 this year after the annual bonfire at dawn.
More about the Matrimandir
The Matrimandir was envisioned by the Mother and its design was undertaken by French architect Roger Anger, who came up with various designs of which the present globe model was approved by the Mother in 1971. The foundation stone was laid on February 21, 1971, and the construction was completed in 2008, according to the Auroville website.

The Matrimandir occupies the centre of Auroville and its inner chambers are white with marble, and hold a crystal-glass globe which radiates sunlight which falls on it from an opening in the sphere. The Matrimandir is there for "those who want to learn to concentrate.." in the words of the Mother. "No fixed meditations, none of all that, but they should stay there in silence, in silence and concentration. A place for trying to find one's consciousness."
The commemorative stamp is priced at Rs. 5 and is available at the Philately Bureau inside the Head Post Office in Pondicherry.
(With inputs from Ashwin Prathap)