The buzz of 90 kids engaged in a game of dumb charades- excitedly shouting out guesses as their friends took turns to enact titles of Tamil movies- could be heard all the way to the gate of the Pavendar English High School. A little girl in a traditional dhavani came up to introduce herself. "I'm a gispy," she lisps.  Sangeetha and her sibling Sinthamani, belonging to the narikuravar community, are first-timers at the one-of-a-kind inclusive summer camp organised by Trust for Youth and Child Leadership (TYCL).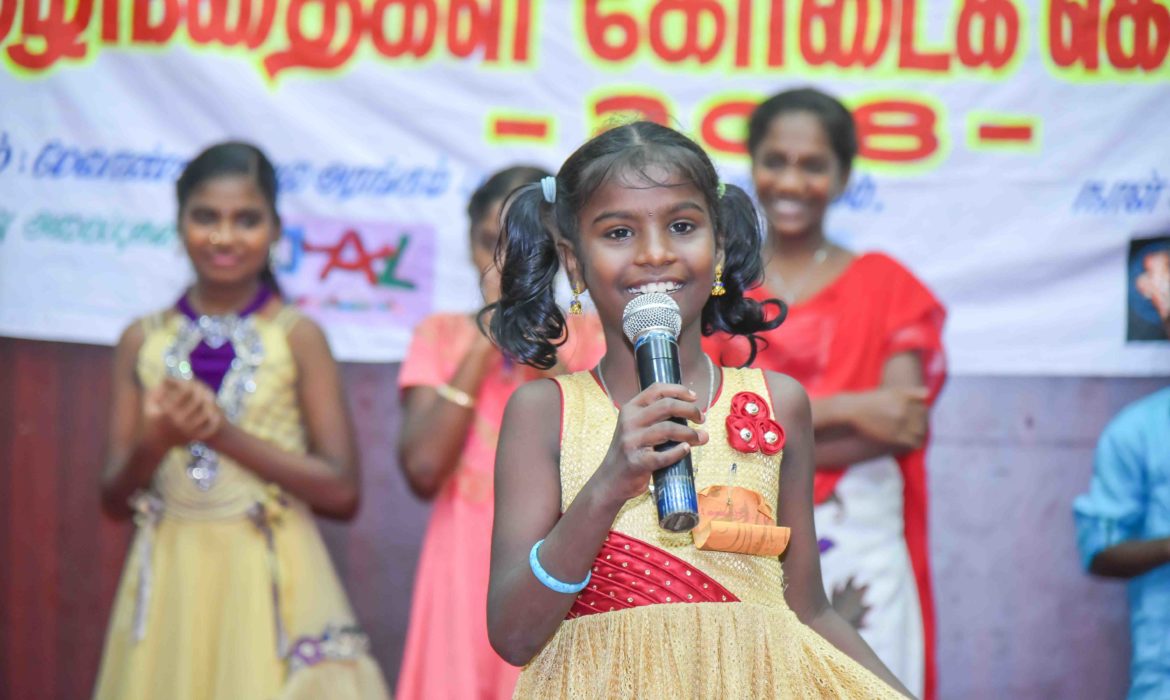 The annual summer camp for kids is unlike any other camp you would find in Pondicherry, chiefly because of its participants. Every year, the trust brings together differently-abled kids and children from orphanages, tribal families and slums.  The camp is funded by contributions from local organisations and individuals who donate a minimum of Rs. 100 to sponsor a child, says Siva Mathiyazhagan, who in 2011, co-founded TYCL, a non-profit organisation to create positive change among youth and children.
Where kids decide what they want to learn
According to P. Yazhini, one of the camp's volunteers , this year's attendees hailed from the Child Development Centre, Dubrayapet, Jaly Home, Krishna Nagar, Sathya Special School and from Narikuravar and Athiyan communities in and around Pondicherry. On day one, kids were asked to write down activities they would like to engage in during the course of the camp. "We try to give them what they want," says Yazhini. 
Going by their requests, a line-up of activities including up-cycling, self-defense and entrepreneurship were arranged and the team attempted to answer questions about careers in sports and in the army. A visit to libraries including the  Ananda Rangapillai Library at Pondicherry University was planned. One of the most popular activities was an interactive therukoothu performance by the Puducherry Makkal Kalai Kazhagam. Some of the kids painted their faces and performed along with the professional artistes. When asked if the kids are happy at the camp, Yazhini replied with a smile, "Why don't you tell me from the look on their faces?"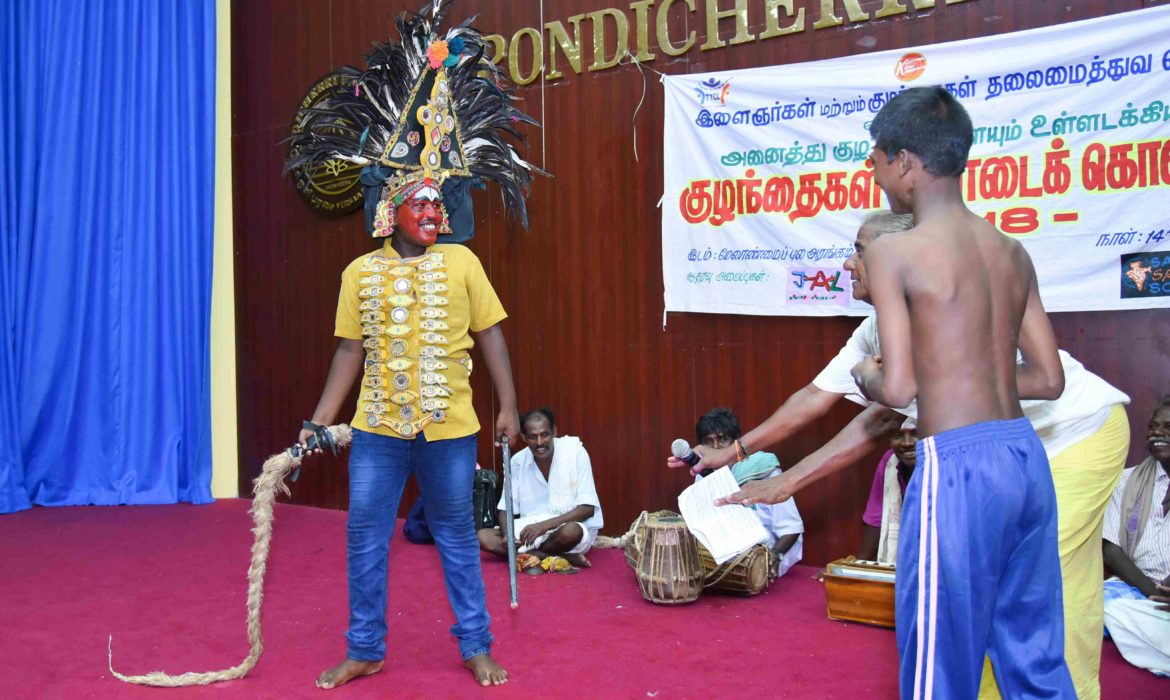 Inclusive summer camp for kids who cannot afford it
While the dozens of camps that come up every summer cater to children whose parents can afford to pay for a wide range of activities, there are barely any free activities for underprivileged kids. Not wanting these kids to be excluded, the summer camp presents them with an opportunity to pick up various skills, says Siva, who is keen on finding these kids before exclusions find them. The 8th edition of the camp, "Kuzhanthaigal Kodai Kondattam" commenced on May 14 at Pondicherry University and concluded on May 19 in Pavendar English High School, Alankuppam, near Auroville. Children spent the last day of the camp visiting the Matrimandir, sitting down to a sumptuous lunch, and exploring the Aranya forest.
Summer camps for children are umpteen in the country. But how many of them include the underprivileged ? What these children need is neither sympathy nor labels but spaces to grow and play, and a chance at a happy, well-spent summer. TCYL is giving them just that.