The Promenade Beach has a lot to boast of, from the waves that lash its pier to the towering Gandhi statue that attracts many a visitor. But on certain Wednesdays, you might spot young marine scientist Suneha Jagganathan – not taking a walk or sipping a drink like so many others around her, but – gathering junk.
Suneha moved from Chennai to Pondicherry six months ago to head the recently founded Temple Reef Foundation – the marine conservation wing of Temple Adventures, that has popularised Pondicherry as a scuba diving destination.  On two Wednesdays a month, Suneha and her team are down at the beach picking up litter and encouraging others to join them.
Keeping the beaches clean
"The Rock Beach is my special place. I love that no cars or bikes are allowed here in the evenings. But people who come here, litter a lot. The idea behind the clean-up is also to make people aware about how to use and dispose stuff", she says, adding the Foundation wants to extend the clean-up to other beaches in Pondicherry. "We usually collect up to 70 kilograms of plastic in one clean-up. We are often surprised by the huge number of slippers that turn up!"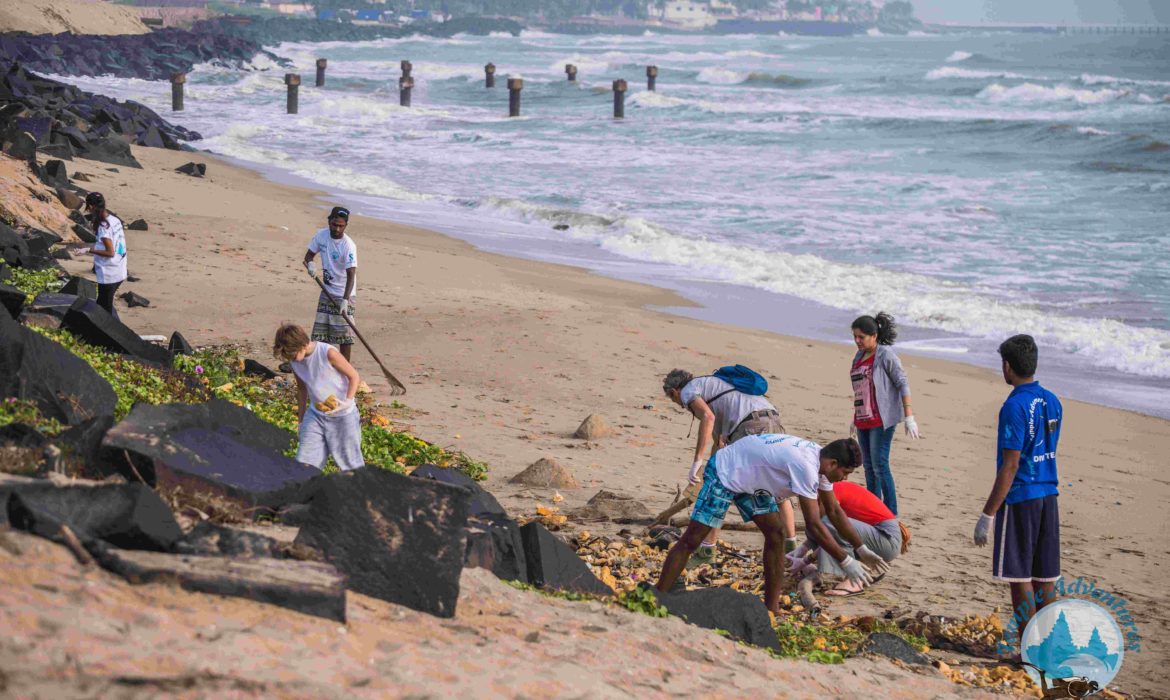 Suneha also oversees the construction of artificial reefs and marine education programmes that aim to make marine biology  and conservation accessible to school kids. The actions we take on land can affect the ocean that surrounds it and the creatures that live in it, is often the theme of the sessions that are conducted with the support of the Organization for Marine Conservation, Awareness and Research (OMCAR).
 Once we organized an awareness programme for government schools. One of the girls from a school called me up a few days ago saying she wanted to be a scientist. That was one of my life's most rewarding moments."
Suneha, who has been diving with Temple Adventures since 2015 wants to remove the stigma associated with women divers in India by encouraging more young girls to dive.
Love for the ocean
Where does her love for the ocean come from? "Growing up in Chennai, I lived five minutes away from the beach. So I guess I relate to the ocean as my home! " As a Zoology student, Suneha interned with organisations like the Madras Crocodile Bank and the Students Sea Turtle Conservation Network in the city. But it was her internship in coral reef ecology at the Indian Institute of Science, Bangalore, that spurred her to take a professional interest in the ocean.
Her Masters in Tropical Biodiversity, under the Erasmus Mundus programme took her to Belgium, Malaysia and Italy. Her thesis on the role of scuba divers in marine conservation continues to resonate in the work she does today as Chief Operations Officer of the Temple Reef Foundation. Also a trained classical dancer , she believes that people of science should appreciate art as a medium of communication to take their message to more people.
#PYLove:
Suneha is happy to have moved to Pondicherry for various reasons. The cafes, the city's laidback vibe, its unique culture and obviously the beaches, keep her happy. All praise about the freedom the city offers, she says, "I love that I can walk practically anywhere. And people here are very open-minded."