It was only last Sunday, Pondicherry went football crazy over France's World Cup win. Whistles, fireworks , football jerseys and the occasional French tricolour could be spotted around town.
If you had taken a stroll on Sunday night by the Promenade Beach– easily the city's most favourite haunt-you could not have escaped the infectious football fever with people sprawled in front of the giant screens mounted on Le Cafe, the 24x 7 coffee shop on the beach.
While some tourists were  considerably puzzled by such throaty cheers, Twitter  users even trolled the Lieutenant Governor for her euphoric tweets after the win:
When one shares joy it multiplies. #Puducherry is a place of celebrations and shared joy.
It's spiritual and nature gifted.
It has inherited its water harvesting infra from the French.
People are grateful to them for the Tanks,Lakes,Ponds, Canals & Channels.We owe a lot to them https://t.co/BnullaTivA

— Kiran Bedi (@thekiranbedi) 16 July 2018
But what was unmistakable at screenings in bars and restaurants and spaces like the French Consulate and the Alliance Francaise de Pondichery, was the spirit of celebration.
Cheers and champagne
Many residents like Saraswathi Narayan, posted messages of felicitations on social media,"Je suis tres contente pour la France"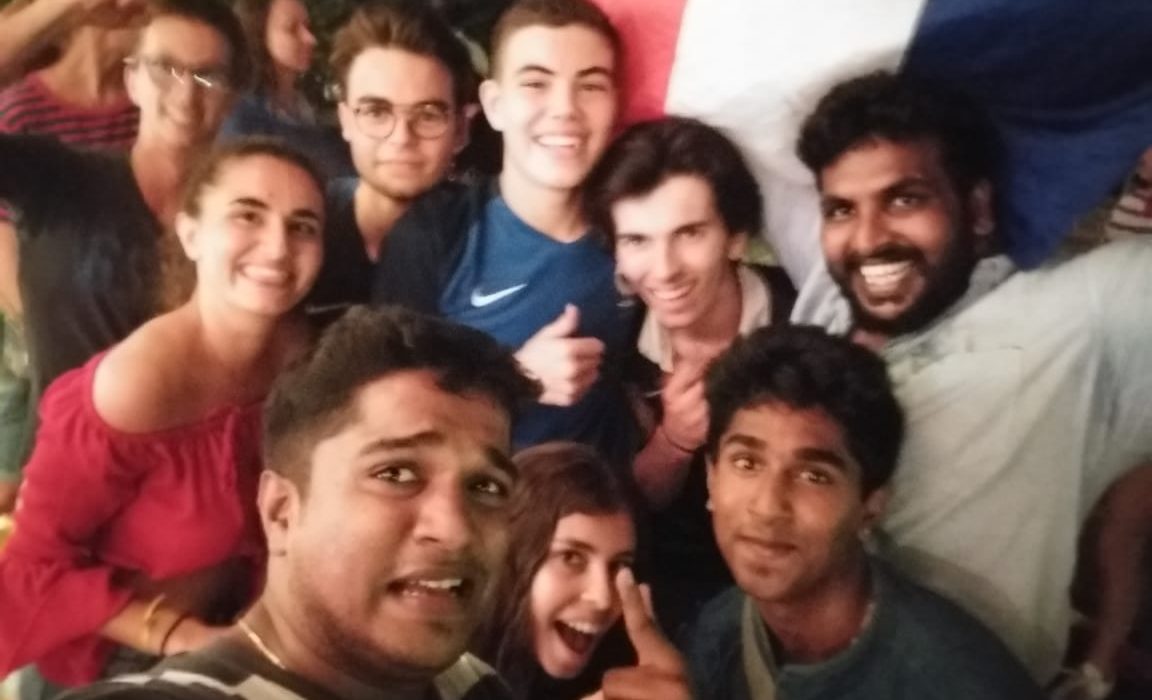 For S. Janarthanan, who accompanied his uncle- a French citizen- to the garden screening at the Consulat Général de France , it was a new experience. "I feel Pondicherry and France share cultural similarities and as Pondicherry has a good relationship with France, I feel proud to support France", he said commending the Consulat Général de France for creating the ideal ambience for die-hard fans.
"We started celebrating after the second goal! The night ended with a glass of champagne to toast France's victory, a treat by the Consulate. " I came out hoping the Indian government would encourage various sports in India.
Ball of a time by the beach
The giant screen on Beach Road brought much joy to fans like medical student Jagan. " You feel the same vibe as in a stadium during a live big screening. The immense joy when you cheer for your team with fellow fans cannot be replaced or matched with watching a match on your TV screen."
For Tara Singh – a young French woman visiting Pondicherry for a short-term project, the beach screenings made up for being away from home. " It was amazing- we felt that all the world was connected to the same moment!"
A melting pot of cultures
For Karthick who works for an e-commerce company, the night turned out to be a multicultural viewing experience as Indians, French and German travellers gathered together at a couch surfers flat . " Most of the Germans supported Croatia and we French supporters were outnumbered. But the French fans had the last laugh!"