How is April treating you? As election fever heightens around us, take a break to celebrate the Tamil New Year in Pondicherry this weekend with food, music and theatre events.
Don't miss our weekend guides published every Friday! Subscribe to notifications by clicking the red bell icon on this page!
3 Events to celebrate the Tamil New Year spirit
1.  Sit down to a feast of signature dishes from various regions of South India
2. Get a chance to play forgotten traditional Tamil games and participate in fun activities.  
3. From kolattam to kummi, celebrate the arts and culture of Tamil Nadu at Auroville. 
Sponsored: Looking for fun ideas for your kids this summer h0lidays? WATCH
https://www.facebook.com/livepondy/videos/416711815553175/
Other events this weekend of Tamil New Year in Pondicherry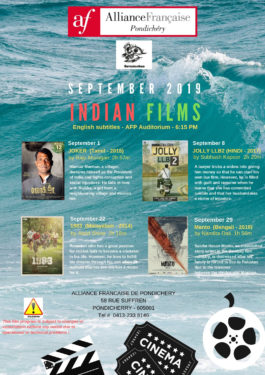 Indian Films Screening
Indian Films Screening Catch a Indian film every Sunday at 6.15 pm at Alliance Francaise de Pondichery. With English subtitles
Read more.
NOTE: Events expire from this page when they have passed.
FEATURE IMAGE: RENUKA VENGADESSIN