Some of the strongest memories I have of my grandmother are of her bustling about the kitchen in her cotton sari.  A thin white towel wrapped around her silvery hair to counter the oppressive summer heat of the asbestos-roofed kitchen.
She would occasionally make my favourite childhood snack- expertly plopping slices of chicken coated in a mellow orange batter into a kadai of spitting oil in front of her.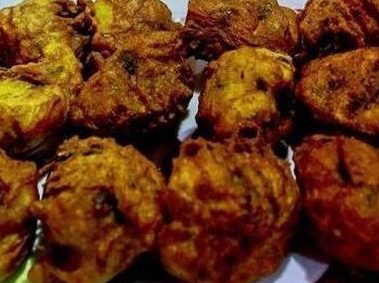 With my uncannily sharp nose, I would be the first among my cousins to sniff out the smells. And it was perhaps the only thing that made us pause the many games we invented in the hot summer afternoons. My grandmother would promptly hand out a deep-fried piece when I popped up at her elbow. The crusty batter would give into mildly spiced, garlicky and tenderly cooked chicken, that would slowly push out the smile on my tanned face to a full curve! I used to call it chicken bajji, because it was like nothing I had tasted or ever since tasted.
As the years passed, my grandmother's cooking frenzy slowed down and the days she cooked a full meal during the summers, were rare. But she would occasionally with great effort, surprise her grand-daughter by making this much-beloved snack.  One summer when she could no longer stand upright in the kitchen,  I asked her for the recipe, deciding to make it someday when I got past the stage of boiling water!
"It was my mother's recipe. She called it côtelette," my grandmother's face lit up. "It's a French word. She was from Pondicherry."
That was the first time I learned of my Pondicherry connection, generally treated as a side-note in family history. Barely did I know that years later, circumstance or fate or Providence- call it what you will- would bring me back to the city my great-grandmother left behind in her twenties.
I did not fall head-over-heels in love with Pondicherry at first sight. Rather, it was the best kind of love: the one that blossoms naturally and slowly; growing deeper and stronger, from seeing, hearing and learning more everyday.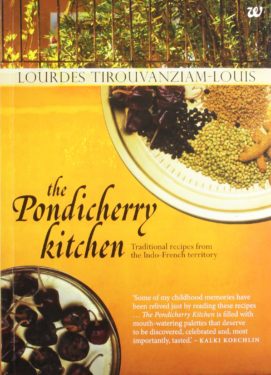 In the first year of this love-affair,  I proceeded to buy every book I could about the city. One day, casually turning over the pages of Lourdes Tirouvanziam-Louis's 'Pondicherry Kitchen', I found a recipe for côtelettes. I stopped turning.
The languid heat of the May afternoons, the unmatched joy of childhood summers, and the smells of my grandmother's kitchen, came flooding back to my own Pondicherry kitchen. My heart smiled in recognition. I knew I was home.
Do you have a favourite recipe passed down in your family? Help us build a digital archive of  Pondicherry/Creole recipes. Mail it to info.pondylive@gmail.com