This Sunday, 25 models will walk the ramp in Pondicherry, dressed in haute couture.
But there will be something distinctive about every item of fashion on display this evening – each is the work of a Pondicherry or Auroville designer.
Gala 2018 on April 8 at Hotel Atithi promises a night of high fashion and thrilling entertaining acts, seasoned with a strong local flavour. The event is an opportunity to get better acquainted with local powerhouses in fashion and find out what they have to offer for Spring/ Summer 2018.
"We have seven designers from Pondicherry and Auroville at the show : most of them are better known outside Pondicherry than locally. This is an occasion to let people know their local talent better," says Anand of Crimson Global Consultants, that organises Gala 2018.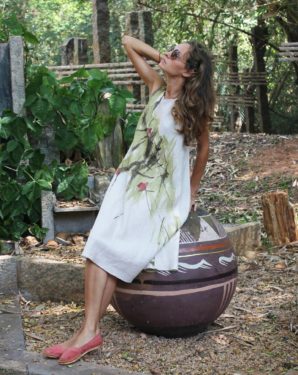 Expect to see Roman inspired dresses, indigo dyed khadi, smart jackets, dresses and Indo-western wear by brands Upasana, To Be Two, AuroKnits, Sno, Rainne by Ritika, Ishta and Auroville Fashion Studio. The fashion show is choreographed by celebrity fashion photographer Karun Raman.
Fire and spice
The night is not all about threads and tails :foot thumping dance performances by four Pondicherry dance studios- Rock-a-Fella, SSDC, SDFX, SAABOO3- guarantee enough glitz. Apart from salsa, hip-hop and Bollywood, three short films will be screened and a fire juggling performance is sure to take the heat up a notch .
Film maker Ananda Krishnan, child author Vipanchi Nayak are special guests while DJ Jesse and Gospel will keep the music going late into the night.
The event starts at 7.30 p.m. Get your passes ( Rs 500: inclusive of unlimited beer) at the iPondy kiosk opposite Le Cafe on Beach Road.
PondyLive is the online media partner for the event.